Anime Fighting Game. Enough said.
Denki Bunko: Fighting Climax is a 2D fighting game by Ecole Software and French Bread (who are known for their Melty Blood games) and published by Sega. Featuring a modest cast of 12 Playable Characters and 18 Assist Characters from different Light Novel series' published by Dengeki Bunko such as Sword Art Online, Accel World, A Certain Magical Index, and Mahoka Koko no Rettosei.
The fighting game is a dream come true for Dengeki Bunko fans, as being able to play as your favorite anime character is certainly an attractive prospect. And luckily the game lived up to the pre-release hype – for the first couple matches or so which is what you're going to think if you expect a profound fighting game… which this is not. This game was made to celebrate the 20th anniversary of Dengeki Bunko and it serves more of a fan service purpose instead of being an actual fighting game. And I'm completely fine with that.
Graphically speaking, the game looks great and it works well as a 2D fighter, but it isn't as well animated as say, Arc System Works' Persona 4: Arena; but it looks good enough. The characters in the game sport their original character designs and not their Anime re-designs, and this is clearly seen with Kirito of Sword Art Online and Taiga from Toradora.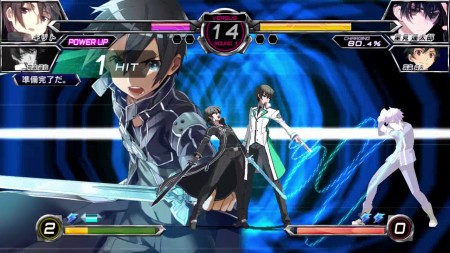 What caught my interest, however, is how well and how fluid the game is even when played on the Playstation Vita. Another positive aspect of the game is how well made the special moves are. If you're a fan of anime, you would certainly know what Mikoto Misaka does with a coin and what Shiba Miyuki does well with a CAD, and the game translates all that extremely well into a frenzy of fanboy giggles on the players' end (that's what happened on my end).
The music, oh my God, the music is incredible. Fighting Climax, featuring an assorted soundtrack from the different works of the Dengeki brand, is enough to make any anime fan scream with joy. From listening to the theme from Railgun to duking it out to a song from Valkyria Chronicles, everything is done with the anime fan in mind.
But maybe the best part about the game's soundtrack is the voice actors. Yes, the original voice actors from the anime adaptations of these light novels return to grace our ears with their velvet tongues. The voice acting is extremely well done and I even find myself wondering how this was possible – but it is and it's incredible.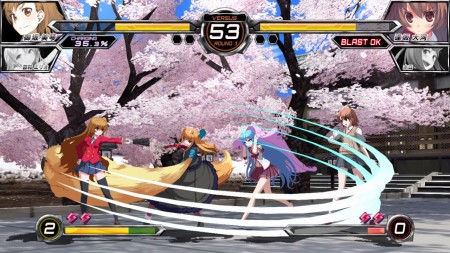 The controls are fairly simple to grasp as, again, this isn't a fighting game like you'd expect. It's no Street Fighter, it's no Tekken and it certainly isn't Mortal Kombat, but it has a charm of its own and if you played Melty Blood from eons past then you would know what I am talking about. Majority of the special moves are executed with quarter circles and half circles precisely because this game is catered more towards casual fighting game fans and anime fans.
Features-wise, the game offers quite a bit with regards to special palettes (or alternate colors) for each playable and support character which is all pretty basic stuff for a fighting game. There's also the Story Mode but its basically one pre-set campaign where you can choose one of playable characters. There are no different stories or special endings, though it is quite the sight to see your favorite character interact with another character, for example seeing Shiba Miyuki of Mahoka interact with Asuna from Sword Art Online is very special for someone like me who religiously followed both these light novels.
Adding to the somewhat limited story mode is the "Dream Duel Mode" where characters from different franchises are given the opportunity to interact with other characters. Wait, isn't that exactly the same as the normal story mode? No, not really.
In the normal story mode, the characters that you meet are pre-set and they usually end with Akira and Pai from Virtual Fighter, but Dream Duel offers players the choice for their – wait for it – Dream Duel. Again, this is merely fan service but something the most dedicated fans will surely appreciate. I know I did.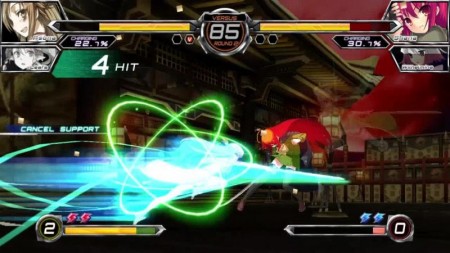 There's also a competitive online mode and I tried a couple dozen matches, and I have to admit that the connection is actually pretty good. I experienced little to no lag or issues, save for the fact that I was getting my ass handed to me left and right as the online players (mostly from Japan) were all just really good – that or I just really suck.
While the game was certainly enjoyable and I had to repeatedly remind myself that this isn't really a fighting game, I just feel that Dengeki Bunko could have given us more. I may just be selfish but I want a more detailed story mode. I want more depth in the fighting engine and I want more characters. I have no problem with the gameplay and the uber repetitive story mode, but "I want more content" should be a pretty fair feeling for a game marketed towards their brand's most rabid fans.
Final Thoughts
All in all, Dengeki Bunko is a great fan service item but it is not a great fighting game. It's simple, it's fun and it aims to make the anime fan in you happy, and that's all that should matter. Definitely buy this game if you like anime/light novels and if you want to see Celty Sturluson (Durarara!!) run over Kirito (Sword Art Online) with her bike.
(Nervous laugh) Just kidding, SAO fans. Just kidding.