There's booty to be had this Halloween, lots of it, with the 2015 edition of Halloween ComicFest.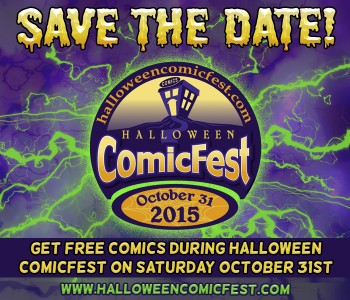 How does a comic book store shopping spree worth $100 to $500 sound? How about a slate of prizes that equal up to ten grand? Yeah, not too shabby huh?
Yet another reason to love Halloween ComicFest, as fans can take home any and all of the above prizes thanks to this year's costume contest. Entering couldn't be simpler either, as all you need to do is to grab a copy of the promotion's free full-size or mini-comics at you local shop. Stores will be selling the little books for $4.99 USD a bunch (of 25), so you can hand them out to trick or treaters on All Hallows Eve. The idea is that the comics make for a great alternative to candy, and I have to admit I like it. As much as I dig candy, most Halloween booty isn't all that great anyway, and I certainly would have loved to have gotten a comic book or two on the big night when I was a kid.
Once you have one of those books, all you do is to take a picture of yourself holding said book, and in costume. Send that shot in to one of the categories listed here and you're good to go. The contest lasts now though November 10th, with voting taking place November 1st through the 10th (yes, you can enter during the voting process).