The latest game in the toys-to-life genre is here with LEGO Dimensions, and TRU is opening up early to get you started on a day of building/playing.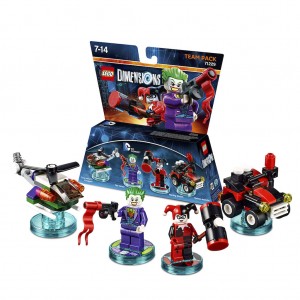 8am shall be the magical hour, when Toys R Us stores open their doors this coming Sunday, and it's all because of LEGO Dimensions. The latest LEGO title isn't just a one off adventure featuring one theme either, it's basically everything that LEGO encompasses, and is as expandable as you can imagine with levels, characters, and vehicles aplenty that are available as real-world toys that you build and then use in-game.
And TRU won't just have what everyone else has in stock this Sunday either, as they'll have exclusive dibs on the Ninjago Jay Fun Pack and the Chima Laval Fun Pack. The Fun Packs are figure packs that add more characters to your game, and in this case add in the master of Spinjitsu Jay Fun and the lion prince Laval from Chima. Jay has Spinjitzu, Fix-It, Stealth, and Electricity to offer you on your adventures, which Laval packs some super strength and a laser deflector.
You'll also enjoy a special sale this Sunday when you head on into TRU, with the purchase of any starter pack for LEGO Dimensions, you'll get yourself a $10.00 USD gift card. Even better, you'll get another one for spending $35.00 or more on any mix of Fun, Level or Team packs. If you're going all in for LEGO Dimensions, then it kind of doesn't make too much sense to start your collection off anywhere else.
LEGO Dimensions launches for consoles this coming Sunday, September 27th.