Pushed out of the original 2015 launch window, one of the best looking side-scrollers in years is on track for an early 2016 release.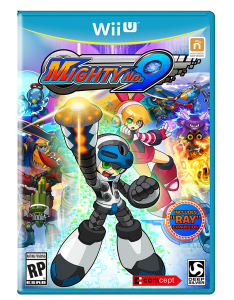 If you're a Mega Man fan, then this game need no introduction, since you probably know all about it already. If you're not familiar though, basically the creator of the Blue Bomber (Keiji Inafune) took to Kickstarter to make the game that he wanted to make, but couldn't at his former employer.
And under the heading of his own company now with Comcept, that's just what he's going to do. The game pretty much lit the fanbase up and it looks terrific. All that's left is to set a new release date, and now we have that too – February 9th, 2016.
Landing in the Americas first, Mighty No.9 then jets out to the rest of the globe on the 12th of February. Thanks to the incredibly successful Kickstarter too, the title will be arriving on just about everything out there, including the PS4, PS3, Xbox One, Xbox 360, Wii U, PC (Windows and Linux), and Mac. Prefer something more portable? Then it's a good thing that the Mighty one will also be made available for the 3DS and PS Vita. You'll have to wait a little longer to play with portable power though, as these digital-only releases are still undated.