Did you know that this Friday is Batman Day? Well Mezco Toyz does, and they've got a special mystery box ready for purchase that could contain some pretty awesome bat-swag.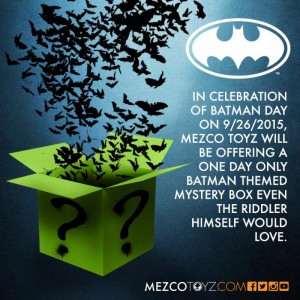 Mystery boxes are pretty hot right now, and have been for a few years at least. Basically, you buy a box (or occasionally a bag) and you get something cool inside. The goodies can be anything, or tailored to a specific event or character.
In the case of the mystery boxes that Mezco has on tap, it's all of the above, as these are in celebration of Batman Day. Priced in at $19.39 USD to mark the year of the DC Comics character's birth, the mystery boxes could contain some rad stuff including everything from diminutive Mez-Itz to a super-limited One:12 Collective Batman figure from Toy Fair. A figure that was never, ever sold at retail. And then of course, there's the massive 18inch Mega Scale Batman Mez-Itz that could find its way onto some of those boxes as well, that bad boy is priced at $200.00 USD normally.
So you might just get some pretty awesome Batman stuff in this one, and for not all that much cash at just under twenty bones. The Batman Day Mystery Box is for sale one day only though, so make sure you hustle up this Saturday, September 26th, and order one. The sale kicks off at 12:01 AM and ends at 12:01 AM on the 27th.