Looking for a new, relatively inexpensive headset that will give you some great gaming sound? Then the Ear Force Recon 50's might be just the ticket.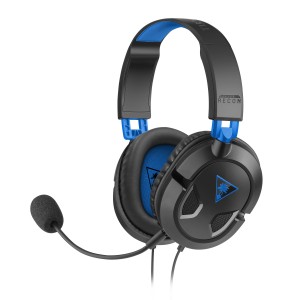 Just announced as hitting retail tomorrow, the Ear Force Recon 50 is Turtle Beach's newest lineup of headsets. Built with performance in mind, but also an eye on cost, this new series of headsets is aimed at getting the job done without breaking the bank.
Together, the full line includes the Ear Force Recon 50 for the PC, the Ear Force Recon 50X for the Xbox One, and the Ear Force Recon 50P for the PS4. And as for features, you can expect quite a bit for your buck.
Comfortable Design – Weighing-in at just seven ounces, these super lightweight and comfortable over-ear headsets and are perfect for hours-long, marathon gaming sessions.
Great Sound – The Recon 50 series gaming headsets feature large, full-range 40mm Neodymium speaker drivers that deliver sizzling highs and thunderous lows while the synthetic leather-wrapped ear-cups provide improved bass response and noise isolation.
Convenient Controls – In-line controls place Mic Mute and Master Volume conveniently at your fingertips.
Mic Check – An adjustable, high-sensitivity boom mic picks-up your voice loud and clear for in-game and online chat, and can be removed when listening to music and watching movies.
Compatibility – The Recon 50 series gaming headsets are compatible with virtually any device with a standard 3.5mm jack, including the new Xbox One controller and other Xbox One controllers via the Ear Force Headset Audio Controller (sold separately), PlayStation 4 controllers, PC, Mac, mobile and tablet devices.
Available in stores and online starting tomorrow (September 25th, 2015), the Ear Force Recon 50's will cost you $39.95 USD.