It was recently released that Redacted Studios, an independent game developer,  in partnership with indie publisher Versus Evil, are publishing the first of three distinct volumes as Afro Samurai 2: The Revenge of Kuma, volume 1.  Each volume will contain its own story arc, new characters and fighting styles to master.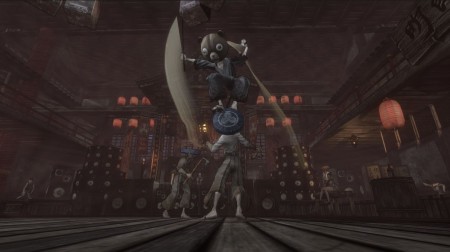 Afro Samurai 2: Revenge of Kuma is an action packed sequel to the original Afro Samurai story. The story follows Kuma, Afro's childhood friend turned cybernetically-enhanced killing machine with a teddy bear head, made for a single purpose: kill Afro.
The Afro Samurai saga has been a beautiful tale, full of wonderful imagery and unique storyline. Personally, I look forward to seeing how Redacted Studios and Versus Evil have carried this forward. Digital downloads for PC and Playstation 4 are available now, Xbox One drops on the [email protected] self-publishing program on October 9th, 2015.
For all you budding hip hop artists out there, Versus Evil is running a Submit  Your Track contest, giving upcoming artists the opportunity to be a part of a future game soundtrack. For more information, http://afrosamuraigame.com/contest/.  Deadline is October 7, 2015.