The Uncanny Avengers might already be loaded up with mutants, superheroes, and Inhumans, but can they handle an insane, mouthy merc?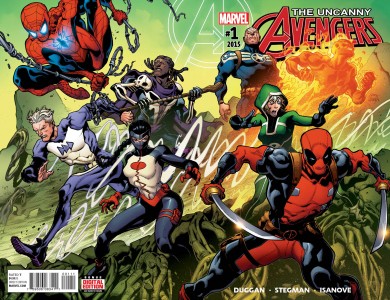 This October, it's truly a team of Earth's Mightiest Heroes unlike any you've seen before. Humans! Mutants! Inhumans! Deadpool! Yeah, we're not kidding! Today, Marvel is pleased to present your first look at UNCANNY AVENGERS #1 – the blockbuster new series from Gerry Duggan and Ryan Stegman! It's an All-New, All-Different Marvel Universe and Steve Rogers has assembled a new squad for the same purpose – unity.  Joining the man once called Captain America are Rogue, Spider-Man, the Human Torch, Doctor Voodoo, Deadpool, Quicksilver and newcomer Synapse. United under one banner, these seven heroes will stand shoulder to shoulder in the public eye – a shining beacon of cooperation between human, inhuman and mutant alike. But with a dangerous new villain on the prowl, the bonds of this untested squad will stretched. Are cracks in the unity squad already beginning to form? Find out this October in the explosive debut of UNCANNY AVENGERS #1!
Far from being relegated to the back burner, Deadpool is alive and in loads of Marvel books come the twilight of Secret Wars this Fall. Yes, even though he was 'killed off' not al that long ago, you just can't keep a good (?) mercenary down as Wade Wilson is joining the Avengers- and it's not a joke either. Wow, that was weird to type.
Even though I don't really like what the Avengers have turned into in the comics, I see what Marvel is doing with Uncanny Avengers and it's pretty cool. They've made it an all-inclusive team that showcases a roster stocked with someone from just about every major group/faction in the Marvel U. From superheroes like Spider-Man and Torch, to mutants like Rogue, Inhumans like Quicksilver (did you forget that little retcon?), and even a mystical character in Doctor Voodoo, there's a little something for everyone.
And then there's Wade, who pretty much appeals to fans of all of the above. Pretty neat. Gerry Duggan and Ryan Stegman bring you Uncanny Avengers #1 on October 14th.