Toy maker Mezco has a special One:12 Collective black and white version of everybody's favorite totalitarian future-Judge ready for sale at NYCC.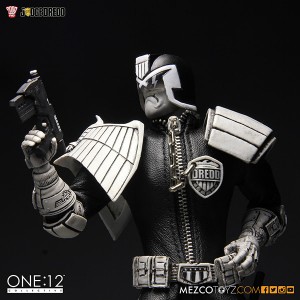 Rebellion Comics star and long-time comic book hero Judge Dredd is the latest character in Mezco's One:12 Collective toy line. Just as with their Batman figure, this one is loaded up with some great detail, as well as tons of accessories and a phenomenal amount of poseability.
And for the NYCC 2015 special edition of the toy, you can also expect to grab Mega-City One's top Judge with a stylish black and white color scheme. Here's what's included:
– Iconic helmet with translucent visor
– Real leather-like fabric uniform
– Equipment belt with working compartments for grenades and ammo magazine
– Boots with holster and knife sheath
– Boot knife
-Handcuffs
– Lawgiver pistol
– Lawgiver ammo magazine
– Daystick
– Two grenades
– One set of fists
– One gun/holding hand
– One open hand
– One pointing hand
– One choking hand
– Display base with posing post
Each figure is packaged in a box designed for collector convenience, the packaging allows for both maximum protection as well as ease of removal for display.
These figures will be as limited as the Batman special editions and show exclusive were, so if you want one get to the Con booth (#1754) early, or hit this link and order up early via Mezco's website- sales kick off tomorrow (9/16) at 10am Eastern.