Toy-maker NECA is just about as awesome as they come, and has what looks like it might be the best figure ever made of Sony's god-killing badass Kratos.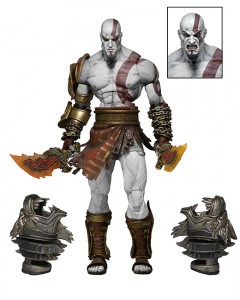 Whatever you might think of God of War's 'hero' Kratos, you can't deny that he's become one of the biggest stars in the video game universe. He's also one of the biggest characters to feature on Sony's line of consoles as well, and has more than a few fans out there.
Believe it or not too, the series has actually been around for a decade at this point, and this is one heck of a way to celebrate the occasion. Featuring NECA's usual level of amazing detail and articulation, Kratos is depicted here as he is in the ultimate chapter of the series – God of War III.
He stands in at 7″ tall and comes complete with his blades of Athena, as well as the Cestus gauntlets obtained from Hercules, and two head sculpts that you can swap at will.
There's still a ways to go till Kratos here hits the shelves, as you'll be able to pick him up (in a collector friendly box of course) this coming December. Want to see more shots of him in action? Hit this link to head to the official NECA page for him.