Ever wanted to serve and protect on the mean streets of Gotham City? Then you'l want this new hooded sweatshirt, exclusive to Previews magalog.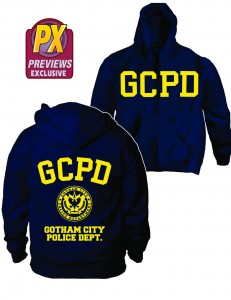 Another pretty awesome piece of merch from Previews this week, comes in the form of this awesome GCPD hoodie. Stayed to look like something that would be available to the boys and girls in blue that walk the streets of Gotham City busting down on crooks, this badass sweatshirt has the GCPD logo emblazoned across the front, and the full crest of the department on the back.
It comes along at a pretty great time too, as the department is featured now more than ever before in both the (pre-Batman) Gotham TV show and in the pages of DC Comics' Batman titles. If you haven't been reading, Batman is MIA and presumed dead (don't worry, he's not), and the city has a brand new and fully sanctioned Batman on the streets to take his place.
This new Bats plays nicer with the cops than ever before (probably because he is one) and even has his own task force that accompanies him into battle against the Gotham underworld.
It's been a wild ride in the comics, and this sweatshirt is a very nice chunk of wearable memorabilia of the either the books or the aforementioned show on Fox. It ships in sizes from small to XXL, has a zipped front and is toned in blue and yellow.
The sweatshirt can be ordered right now at your local comics shop, via Previews magazine, and ships in October.