Groot's got you covered as goes your morning cup of joe (or tea, or cocoa, or whatever) thanks to this new exclusive item, stocked by the fine folks at Previews.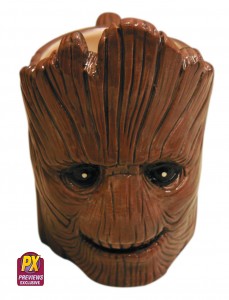 The comic shop bible, or 'magalog' as Previews themselves dub the hefty publication, the Previews catalog is a mainstay of comic shops all across the nation. It's usually got a fair shake of exclusive items within its pages too, and this little dandy falls neatly within that category.
Hailing from the Classic Imports company (and not a far off star system as you might imagine), this Groot mug is exclusive to Previews, and therefor will be appearing only in comic shops. Shown first at SDCC earlier this month, the mug is molded to look like Groot's happy face. Suitable to hold whatever drink you choose to wake up to, and definitely prepared to take on a refill (or five), Groot will cost you $16.99 USD and will hit the market early next year in January. Perfect to deliver some hot java to better shake you from that post-Holiday daze.
Though he won't be in your cabinet till 2016, you can pre-order one for yourself at your local comics shop as soon as we roll on into August.