And I mean 'buggy' in a good way, as sci-fi RPG The Technomancer shows off some of its creepier, crawlier denizens.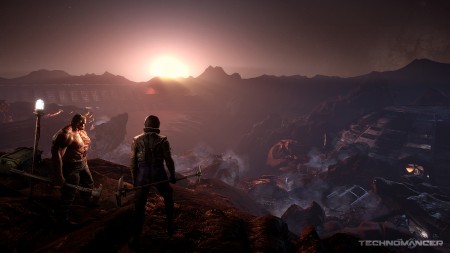 Now that's a pretty looking game right there. But The Technomancer isn't just all looks, as the game actually sounds pretty neat. Not to mention original.
Set on what sounds like a post-apocalyptic Mars, years after humanity colonized the planet, you play as a Technomancer (bet you didn't see that one coming). Kind of like a mage that controls technology, these enhanced individuals are loaded for bear with implants and electrical-based abilities. Trained from youth for battle, the Techno-wizard that you play as s about to pass initiation and become a full-fledged member of the group.
It seems like the Technomancers are tied to points on Mars too, as these screen released this week contain as much story as they do pretty pictures. From the press release:
In today's images, we discover the Technomancer and his companions, about to explore one of the Old Domes, vestiges of the first human colonies on Mars and places considered "sacred" by Technomancers, who guard them zealously. Like the rest of the planet, the Ancient Domes are dangerous places, with countless dangers such as looters lured by the prospect of lost technology, as well as some of the most dangerous mutant creatures to roam the Red Planet. This is a true challenge for an aspirant Technomancer, about to pass his initiation rite…
I'm seriously digging the vibe that The Technomancer is putting out so far. It has a cool mashup of technology and sword and sorcery feel happening, and it's so far looking pretty terrific too in the visuals department.
Plenty more time to go on this one though, as The Technomancer isn't set to 'mance on the PS4, Xbox One, and PC till some time in 2016. We'll have more for you as it's revealed.