Just in time for the Holidays, that brutally violent, bloodbath Devil's Third is coming to the US Wii U.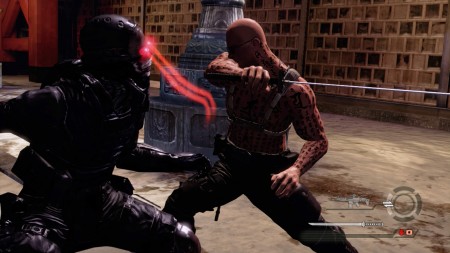 Just announced for North America, director Tomonobu Itagaki's latest gorfest (he did the Ninja Gaiden games) is coming to the Wii U just in time to take up some of your Holiday shopping time. Devil's Third has been in the works for a while, and is hitting the Wii U in both eShop and retail formats.
"Devil's Third delivers a unique combination of shooting and melee combat to provide Wii U owners with a fresh action-oriented experience," said Valhalla Game Studios founder Tomonobu Itagaki. "We've been working hard on the game and can't wait for fans to get their hands on it later this year."
Valhalla is actually publishing the PC edition of the game, while the Nintendo Wii U version will fall under the umbrella of the Big N itself. I'm not sure, but I think this may be the first time that they've actually brought something this violent to market too… unless you count Eternal Darkness, but that wasn't really over-the-top gory.
Also kind of interesting is that the PC version of the game will be free-to-start, whatever that means. I guess you get a demo that ends with a choice to buy in for the full version? Either way, both editions will sport "full" multiplayer modes to compliment the single-player campaign, though they might be a little different. Nintendo says that the PC version will have a mode "tailored for that platform". I'm not entirely sure what the might mean either- voice chat maybe?
Interesting stuff. Devil's Third arrives on the Wii U and the PC this fourth quarter.