It's the end for Bloodshot, well, it will be anyway. One day.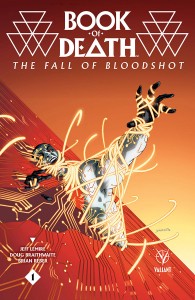 Valiant's Book of Death crossover continues with a look at the end times for the indestructible killing machine known as Bloodshot. Sure, he's known as Ray Garrison right now in his monthly book, Bloodshot Reborn, but this one-shot tells of the future for the character, and what a future it is.
In a time yet to be, Ray will indeed get his nanites back, and fully become Bloodshot again. And he'll have all that that entails as well, like extremely long life, regenerative powers, and superhuman abilities.
The Fall of Bloodshot #1 has plenty of action, lots of cool stuff and mentions of what's to come in the Valiant U, as well as plenty of nods to what has been, but it's also a somewhat sad tale. This is an action oriented character remember, but at his core he's just a man and that's never been more true than here.
What happens when this man lives past the lives of pretty much everyone else in the Valiant Universe that he's known and loved? In Ray's case, it's a never-ending march, a walk around the globe (and then some) until he finally wears out his welcome in the physical realm.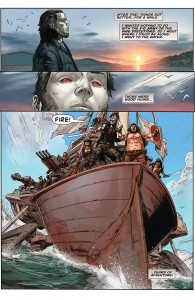 There's a ton of cool stuff mentioned in the book as well, as Ray walks the Earth of the future. A War of Brothers (I'm guessing the Anni-Padda bros) is coming, and there's an X-O Army that's yet to be that also gets a passing reference. There are even nods to elements from the old Valiant U (that don't exist in the rebooted version) like a certain Robot Fighter and maybe even a Dinosaur Hunter. As I said, lots of cool stuff in this one.
As you probably already figured out, writer Jeff Lemire does a phenomenal job running though future events, keeping the book's immense story moving forward without crushing in on itself, all while packing in the aforementioned tons and tons of stuff. I mean, we literally pass through hundreds of years of future-history in this issue, and see things conclude in a time period that Valiant fans should be well familiar with at this point (I think anyway, it's kind of hard to tell where we are by the end). And all of it is perfectly paced and with plenty of detail. It all comes to a final end for Ray in an oddly sweet way too. That's definitely something that fans wouldn't have seen coming, but it's a fitting end nonetheless.
Lending his artistry to all this is Doug Braithwaite, who's realistic style is stressed to the max here as he's made to draw way more than just scenes of combat. Not that he's never done it before, but he's able to craft some pretty wild and varied settings in this one. I'm pretty sure he's never done a comic that had scenes on the high-seas, in an arctic wasteland, and on an alien world, after all, and he does it all here with a sharpness and attention to detail that comes off perfectly.
Final Thoughts
If you're a Bloodshot fan, then you pretty much need to grab a copy of The Fall of Bloodshot.
Not only is the book the first of the 'Fall of…' Book of Death crossovers, but it's an interesting time even without the main comic to fall back to. Actually, it doesn't even mention Book of Death anywhere in it, which makes sense since it's effectively an alternate timeline, so it's more than possible to read this one as a standalone without following the main Book of Death story.
This is good stuff all around, with terrific art and a really well paced and plotted story. A worthy read and a worthy end (which may not come to pass) for Bloodshot.