You'll be able to take Gabriel Knight: Sins of the Fathers 20th Anniversary Edition with you on the go starting this week.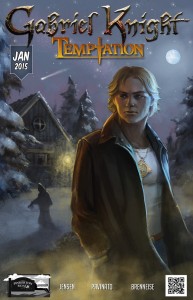 The remake of the classic adventure game Gabriel Knight: Sins of the Fathers was released onto the PC last year to fan and critical acclaim. It's based of course, on one of the greatest adventure games to see release during the golden age of the genre on the PC.
Packed with supernatural elements and plenty of puzzles to solve, the game comes from the mind of Jane Jensen, who's herself a celebrated member of the game industry. And now that the game is coming to the mobile space with tablet versions, you'll be able to take pretty much the entire PC experience along with you.
And that means:
Gorgeous high-res 3D backgrounds and models with more New Orleans flavor
The classic Gabriel Knight soundtrack, rescored and reorchestrated by original composer Robert Holmes
A tiered in-game hint system
All-new special edition content, including behind-the-scenes material from the original Gabriel Knight, from concept art to storyboards and more, plus new interviews with members of the original team
You can grab a copy of the mobile edition of Gabriel Knight: Sins of the Fathers 20th Anniversary Edition right now for your Android or Apple tablet, and you can also pick up the game via GOG and "other online retailers" for the PC and Mac.
And while you're downloading that, don't forget to grab a copy of The Temptation," which is a free digital graphic novel that's meant to accompany the game. It's kind of sequel, which picks up 6 months after the events in the game's story, and you can get in on it here.