Well this is a nice surprise indeed- the original Blaster Master is back and available on the Wii U.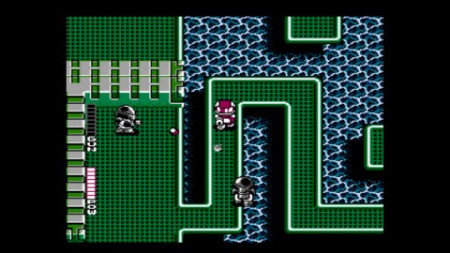 Not that it's the sole offering on this latest eShop update, but I have a soft spot for Blaster Master and it's really good to see it made available again in any form. This is the NES original too, so it's chock full of nostalgia.
If you're unfamiliar, the game allows you to go on foot, or behind the wheel of the tank-like vehicle SOPHIA, as you navigate underground levels and battle all manner of nasties. I played the heck out of this hard as nails title back in its original launch time, and loved every second. It's one of those games that just keeps grabbing you even though all you do is lose… over and over again.
Also this week is a pretty decent Ubisoft sale, some new demos (Fafnir Knight), and the introduction of a couple new themes. Scroll on down for more.
Virtual Console on Wii U

Blaster Master – In this NES cult classic, main character Jason goes after his rogue pet frog, Fred, and both fall into a world of monsters. Jason must join forces with a combat tank code-named SOPHIA and find a way to survive, while ending the mutant forces set to destroy Earth!
Nintendo eShop Sales:
Nintendo eShop on Wii U and Nintendo 3DS
Nintendo eShop on Wii U

Super Toy Cars is 50 percent off (reduced from $7.99 to $3.99) until 8:59 a.m. PT on July 23.
uWordsmith is 50 percent off (reduced from $1.99 to $0.99) until 8:59 a.m. PT on Aug. 6.

Nintendo eShop on Nintendo 3DS
Activities:
Splatoon Splatfest: Thrill seekers rejoice! The theme for the second SplatoonSplatfest is "Roller Coasters vs. Water Slides" and it starts July 17 at 9 p.m. PT and ends July 18 at 9 p.m. PT. You can pick your team at the Splatfest booth in the Inkopolis plaza prior to the event, but pick wisely because you won't be able to change your team once you choose! Learn more here: http://splatoon.nintendo.com/news/.
Theme Shop on Nintendo 3DS:
New themes this week include:

Etrian Odyssey Untold 2: Café Theme
Hatsune Miku: Project Mirai DX
Miiverse 2015 Theme
Also new this week:
In addition to video games available at retail stores, Nintendo also offers a variety of content that people can download directly to their systems. Nintendo adds new games weekly to the Nintendo eShop on the Wii U console and the Nintendo 3DS family of systems, the Nintendo DSi™ Shop for the Nintendo DSi system and the Wii™ Shop Channel for the Wii console.
The Nintendo eShop is a cash-based service that features a wide variety of content, including new and classic games, applications and demos. Users can add money to their account balances by using a credit card or purchasing a Nintendo eShop Card at a retail store and entering the code from the card. All funds from one card must be loaded in the Nintendo eShop on either Wii U or the Nintendo 3DS family of systems, but can be used in either Nintendo eShop if the systems are linked to a single Nintendo Network account.
The Wii Shop Channel offers games and applications and uses Wii Points™, which can be purchased via the Wii Shop Channel. The Nintendo DSi Shop offers games and applications and uses Nintendo DSi Points™, which can be purchased in the Nintendo DSi Shop.
Remember that Wii U, Wii, Nintendo 3DS, Nintendo 3DS XL, Nintendo 2DS and Nintendo DSi feature parental controls that let adults manage some of the content their children can access. For more information about this and other features, visit http://www.nintendo.com/wiiu or http://www.nintendo.com/3ds.