Activision's next Skylanders game is revving up for an SDCC 2015 showing, where gamers can get their hands on the game for the first time.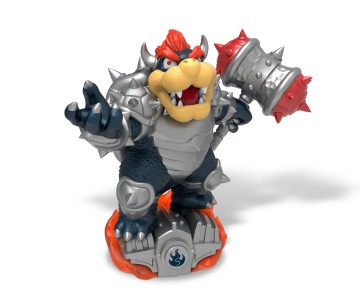 So that's a little look at the Dark Edition for Skylanders SuperChargers, which wasn't announced all that long ago. Bringing vehicles into the game for the first time ever (other than Flynn's airship), SuperChargers is looking like a pretty awesome new evolution for the franchise. And speaking of 'new', Nintendo characters in a Skylanders game is awfully new as well.
Dark Donkey Kong and Dark Bowser, both of which will have standard versions as well, are both playable at the show this week and both have vehicles to ride around in. As you might imagine, there'll be two versions of the 'Dark Edition' pack this year, with one for consoles in general, and another exclusively for the Wii U, which will have the Nintendo characters packed in. That version will also have a special level, tailored exclusively for the King of the Koopas.
In addition to all of the above, you can also get a sneak peek at the new Eon's Elite figures at SDCC and you'll be able to see the new "franchise-inspired comic book series, Mad Libs and costumes", all of which will be on hand.
"This year Skylanders, the original toys-to-life franchise, gets a boost of high-octane gameplay and innovation by bringing toy vehicles to life for kids with Skylanders SuperChargers," said John Coyne, senior vice president of consumer marketing, Activision Publishing, Inc.  "We look forward to fans checking out our Dark Edition and Eon's Elite offerings for the first time at San Diego Comic-Con."
The Skylanders SuperChargers Dark Edition will run you $99.00 USD, and includes "Dark Spitfire, Dark Hot Streak, a two-sided ultimate collector poster and the highly sought-after Kaos Trophy, which is the only way to unlock special Kaos gameplay content". That's the content that you'll get across all platforms, but the Xbox One/360 and PS4/3 versions will also include "Dark Super Shot Stealth Elf and Dark Sea Shadow" while the aforementioned Wii U edition will come packed with "Dark Turbo Charge Donkey Kong and Dark Barrel Blaster".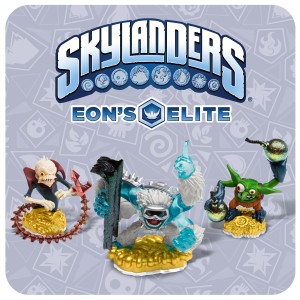 As for those Elite figures, this year's assortment counts another set of original Skylanders amongst its number. Coming in display cases with lenticular cards, these three-times more powerful (than their regular forms) toys will come with "premium decorations, new poses and unique sculpts that represent how they appear in their fully upgraded form".
Voodood, Zook, Slam Bam, Ghost Roaster, Boomer and Dino-Rang will all be made available as a part of the line, with witht he first three on that list being Toys R Us exclusives. Those will hit in November, with the second three landing in December, just in time for the Holidays.
At Comic Con this weekend? Here's where you can check out the game and its various spinoffs:
Skylanders Show Floor (Booth #121): Fans can get hands-on with the new
Skylanders SuperChargers Dark Edition; check out all-new Eon's Elitecollectible figures; take photos inside a life-sized Hot Streak vehicle or with Kaos and Spitfire statues; say hello to life-sized costumed characters Eruptor, Gill Grunt and Jet Vac; and collect giveaways all weekend long while supplies last — including Skylanders buttons and event-exclusive Hot Streak vehicle toys each morning starting at 10 a.m. PT.
Skylanders Comic Book, IDW Publishing (Booth #2743): Leading comic book publisher IDW will have copies of the Skylanders comic books series available for purchase. Attendees also will learn more about Rift into Overdrive, IDW's latest Skylanders offering and prequel to Skylanders SuperChargers– available for preorder now online.  Fico Ossio, the comic book's lead artist, will be onsite for signings on Thursday from 10 – 11 a.m., and on Sunday from 11 a.m. – 12 p.m. PT.
Mad Libs (Booth #1032): Attendees can purchase the popular Skylanders Universe™ Mad Libs. Fans receive a free tote bag with a purchase of three Mad Libs!
Nintendo Game Lounge (Marriott Marquis and Marina): Convention goers can get hands-on with Skylanders SuperChargers and collect limited edition Skylanders-themed air fresheners while supplies last.  Hours: Thursday – Saturday, 10 a.m. – 7 p.m.; Sunday, 10 a.m. – 5 p.m.
Penguin (Booth #1514):  Fans can purchase Penguin's Skylanders Universe™series of books.
Rubie's Costumes (Booth #3649): Skylanders fans can purchase costumes at Rubie's booth.
Xbox Lounge (Manchester Grand Hyatt): SDCC badge-holders can get hands-on with Skylanders SuperChargers, pre-order the game, enter to win a custom Skylanders SuperChargers Xbox One console on July 9, and collect special Skylanders posters while supplies last.  Follow us on Instagram @SkylanderstheGame for contest details. The Xbox Lounge hours: Thursday – Saturday, 11 a.m. – 8 p.m.; Sunday, 10 a.m. – 5 p.m.