Diamond Select Toys will have a ton of new stuff on the show floor this week at the SDCC.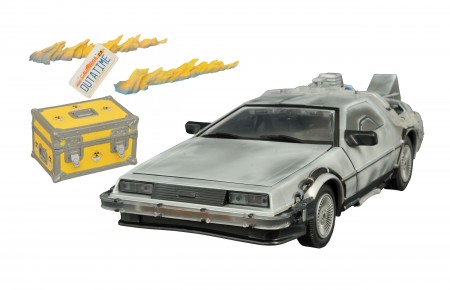 If you follow BG at all, then you know all about DST. The company has almost every big time license that you can think of and produces some of the coolest stuff out there. And there's no end to the form that all this stuff takes either.
You'll find busts/banks, Minimate figures, statues, board games, and even stuff like bottle openers. Yeah, there isn't really a lot of stuff that DST doesn't have a hand in.
One of the biggest showcases of the year for the company is the SDCC, which kicks off this week in San Diego. They have quite a few really great looking Minimates on tap to be displayed for the first time at the show too, including an awesome Aliens assortment with the Power Loader and Alien Queen, as well as Muppets and Nightmare Before Christmas mini-figures.
There's also quite an impressive lineup of Back to the Future stuff scheduled to be on hand, with Minimates, tumblers, a collector set with the DeLorean, and a board game. If you're a BttF fan, then you flat out don't want to skip the DST booth.
Great stuff as usual, and you can scroll on down to check out the full list. And while you can't buy any of this awesome stuff on the show floor, you can definitely pre-order most of it online, direct from DST, or at your local comics shop. And you can conveniently find one of those, by clicking here.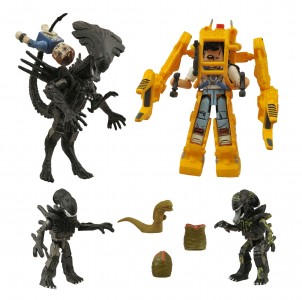 Aliens Minimates Deluxe Power Loader & Alien Queen Asst. – A Diamond Select Toys Release! These Minimates are monstrous! For the first time in DST's line of Minimates based on the Aliens franchise, collectors will get two deluxe-sized sets containing two deluxe-sized Minimates! Ripley's Power Loader comes with Ripley and a Battle-Damaged Alien Warrior, while the Queen Alien comes with Bishop (who can be impaled on her tail) and an Alien Warrior. Plus, both sets come with Alien eggs, facehuggers and chestbursters! Each set comes packaged in a full-color window box. Designed by Art Asylum! (Item #JUL152206, SRP: $14.99/ea.) http://www.diamondselecttoys.com/aliens-minimates-deluxe-power-loader-alien-queen-asst

Batman The Animated Series Joker Vinyl Bust Bank – A Diamond Select Toys Release! "Hey, Batman! You stink so bad, I can smell you from here!" The first vinyl bank from DST based on Batman: The Animated Series is none other than the villainous Joker! Depicted in his famous animated look, the Joker features high quality collectible sculpting and paint applications, and also has a coin slot on the back to store his ill-gotten gains! An access door in his base returns the money to its rightful owners, and the bank comes packaged in a clear polybag. Sculpted by Steve Varner Studios. (Item #JUL152191, SRP: $22.99) http://www.diamondselecttoys.com/batman-the-animated-series-joker-vinyl-bust-bank

Batman The Animated Series Femme Fatales Harley Quinn PVC Statue – A Diamond Select Toys Release! DST continues their line of Femme Fatales statues based on Batman: The Animated Series, and Poison Ivy and Batgirl are now joined by the Clown Princess of Crime, Harley Quinn! This 9" PVC statue captures the Joker's partner-in-crime standing on top of the Bat-signal after defacing it with a can of spray paint! That oughta impress Mr. J! Statue comes packaged in a full-color window box. Sculpted by Steve Varner Studios. (Item #JUL152194, SRP: $45.00) http://www.diamondselecttoys.com/batman-the-animated-series-femme-fatales-harley-quinn-pvc-statue

Batman Animated Series Poison Ivy Resin Bust – A Diamond Select Toys release! Itching to expand on your bust collection? DST is seeding their Batman: The Animated Series line with a brand-new bust of Poison Ivy, the Batman villainess with a soft spot for plants! Dr. Pamela Isley is the third bust in the series, allowing her to team up with Harley Quinn against Batman himself! Capturing Bruce Timm's timeless design in three dimensions, this approximately 6" tall bust of the bellicose botanist sits atop a decorative base inspired by the show and comes packaged in a full-color box with a certificate of authenticity. Limited to 3,000 pieces! (Item #JUL152193, SRP: $59.99) http://www.diamondselecttoys.com/batman-the-animated-series-poison-ivy-resin-bust

Batman Classic TV Series Batmobile Vinyl Bank – A Diamond Select Toys release! Everyone knows that the Batmobile has a lot under the hood, but now it's got something else under there: your change! This vinyl version of the Batmobile from the Batman Classic TV Series measures 9 inches long, and has a coin slot between the seats and an access door in the base, meaning this high-quality vinyl replica is also a bank, for storing your non-giant pennies and scarred silver dollars. Park it in your home Batcave! Packaged in a clear polybag. (Item #JUL152195, SRP: $22.99) http://www.diamondselecttoys.com/batman-classic-tv-series-batmobile-vinyl-bust-bank

Justice League Flash Logo Metal Bottle Opener – A Diamond Select Toys release! When you need a bottle opener, there's no time to dilly-dally. Show your friends how fast you are at fulfilling your hosting duties with this metal bottle opener in the shape of the Flash's logo from Justice League! Cast in solid metal and measuring approximately 4 inches long, this opener also has magnets on the back, so you can stick it to your refrigerator or global threat monitoring station for a more rapid response time. Thirst never waits! Packaged in a full-color slipcase. (Item #JUL152192, SRP: $18.00) http://www.diamondselecttoys.com/justice-league-flash-logo-metal-bottle-opener

Back to the Future Iced Time Machine Collector Set – A Diamond Select Toys release! Is it hot? No, it's ice cold! DST revisits their bestselling electronic 1:15 scale Time Machine from Back to the Future in a new, 30th Anniversary edition box set! Having just arrived in our time from 1985, this Version 1 Time Machine features lights and sounds, plus a thin coating of "frost" over its entire surface, to replicate the effects of time travel. Bonus accessories include flaming tire tracks, a license plate you can pose like it's spinning, and a case of plutonium! (Not actual plutonium.) Set comes packaged in a full-color window box. (Item #JUL152196, SRP: $59.99) http://www.diamondselecttoys.com/back-to-the-future-iced-time-machine-collector-set

Back to the Future Monopoly Board Game – A Diamond Select Toys release! Want to travel from 2015 to 1985 to 1955 to 1885 in the comfort of your own home? Well, now you can! This fully licensed Back to the Future Monopoly board game provides hors of fun as you collect locations and time-hop through the world of the BTTF trilogy! The game board features all-new properties taken straight from the films, including Café '80s and Doc's Mansion, plus you get new "Chance" and Community Chest" cards, and new die-cast metal game pieces of the time machine, Einstein the dog, the cowboy hat, the futuristic sneaker, the hoverboard and the famous Hill Valley clock! Game comes packaged in a full-color box resembling a case of plutonium. (Item #JUL152198, SRP: $39.99) http://www.diamondselecttoys.com/back-to-the-future-monopoly-board-game

Back to the Future 30th Ann. 2015 Minimates Box Set – A Diamond Select Toys release! It's time for Minimates to go back to the future! DST is revisiting their popular Back to the Future Minimates mini-figure line, with new box sets featuring never-before-made characters! First up is a brand new set from 2015, featuring three all-new characters ­­– Griff Tannen, Marlene McFly and Marty McFly, Jr. — plus a new figure of two-tie-wearing Marty McFly, Sr.! Each Minimates mini-figure features 14 points of articulation and interchangeable parts and accessories, including Griff's Pit Bull hoverboard. Packaged in a full-color blister card. Designed by Art Asylum! (Item #JUL152197, SRP: $19.99) http://www.diamondselecttoys.com/back-to-the-future-30th-ann-hill-valley-2015-minimates-box-set

Back to the Future Trilogy Glass Tumblers – A Diamond Select Toys release! Ring in the new year(s) in style with these three Back to the Future Reelware glass tumblers, featuring all-new artwork capturing the most exciting moments of the BTTF trilogy! From the first movie, Doc Brown connects the crucial power cords in 1955! From the second film, the Time Machine cruises the skyways in 2015! And from the third film, the arrival of the Time Train from 1885! Collect all three glasses to complete the trilogy – you'll feel like you're drinking in a different century with each one! Package in a full-color window box.

Part I Tumbler (Item #JUL152199, SRP: $9.99)

http://www.diamondselecttoys.com/back-to-the-future-movie-glass-tumbler

Part II Tumbler (Item #JUL152200, SRP: $9.99)

http://www.diamondselecttoys.com/back-to-the-future-ii-movie-glass-tumbler

Part III Tumbler (Item #JUL152201, SRP: $9.99)

http://www.diamondselecttoys.com/back-to-the-future-iii-movie-glass-tumbler-3

Femme Fatales Raven Hex 15th Anniversary PVC Statue – A Diamond Select Toys release! It's been 15 years since the debut of the comic book Tarot: Witch of the Black Rose, so DST is reteaming with Broadsword Comics for a new statue of Tarot's sister, Raven Hex! Featuring an entirely new sculpt, this PVC statue of Raven Hex, sister of Tarot, measures approximately 9 inches in a sultry black dress. With the goblin Mudwart by her side, she stands atop an open-book display base, which combines with her sister Tarot's base to form the complete tome. Packaged in a full-color window box. Sculpted by Sam Greenwell! (Item #JUL152209, SRP: $45.00) http://www.diamondselecttoys.com/femme-fatales-raven-hex-15th-anniversary-pvc-statue

Marvel Minimates Villain Zombies vs. Age of Ultron Secret Wars Box Set – A Secret Wars tie-in! A Diamond Select Toys release! Every year, DST unleashes a horde of Marvel's Villain Zombies on the world, in the form of a new four-pack of Marvel Minimates! This year, with worlds colliding over in Secret Wars, even our zombie box set is not immune to the effects! Villain Zombie versions of Pyro, Bullseye and the Vulture have been invaded by an Ultron Drone from the Age of Ultron. No matter who wins, we lose! Each 2-inch Minimates mini-figure features 14 points of articulation as well as interchangeable parts and accessories. Packaged in a full-color window box. Designed by Art Asylum! (Item #JUL152208, SRP: $19.99) http://www.diamondselecttoys.com/marvel-minimates-villain-zombies-vs-age-of-ultron-secret-wars-box-set

Marvel Retro Thor Action Figure Limited Edition Gift Set – A Diamond Select Toys release! Forsooth, the Odinson approacheth! Capturing Marvel's God of Thunder in all his 1970s glory, this retro-style action figure set features a cloth-costumed Thor just as he looked when he was released by the Mego Corporation in his first action figure appearance! With his hammer, helmet, and long golden hair, Thor comes packaged inside a vintage-style window box. Thor also comes with two extra heads and outfits to change into his alter ego, Dr. Donald Blake, as well as a more modern take on the hero, complete with an updated hammer. All are packaged in a display-ready gift tray. Limited to 3,000 sets! Designed and Sculpted by EMCE Toys! (Item #JUL152207, SRP: $80.00) http://www.diamondselecttoys.com/marvel-retro-thor-action-figure-limited-edition-box-set

Muppets Minimates Series 1 Two-Pack Asst. – A Diamond Select Toys release! It's time to light the lights! DST is proud to introduce the very talented Muppets to the Minimates line! This first series of two-packs features the Muppet Show's greatest stars, including Kermit with Miss Piggy, Fozzie with Scooter, Gonzo with the Swedish Chef, and Stunt Show Gonzo with a "Batter-Damaged" Swedish Chef. Each Minimates mini-figure features up to 14 points of articulation, as well as interchangeable parts and accessories. Each two-pack is packaged on a full-color blister card. (Item #JUL152202, SRP: $9.99/ea.) http://www.diamondselecttoys.com/muppets-minimates-series-1-two-pack-asst

Nightmare Before Christmas Sally Coffin Doll Limited Edition – A Diamond Select Toys release! The beautiful creation of Dr. Finkelstein, Sally now has her very own coffin to relax in! The star of Tim Burton's stop-motion masterpiece, The Nightmare Before Christmas, this 16-inch tall doll of Sally is a must for any home that embraces the spirit of Halloween. With a fully articulated body and a real cloth costume, this exacting re-creation of the classic Sally figure features a unique head sculpt and will rest comfortably in her coffin-shaped window box until the times comes for her to rise once again! Limited to 1994 pieces! (Item #JUL152205, SRP: $49.99) http://www.diamondselecttoys.com/nightmare-before-christmas-sally-coffin-doll-limited-edition

Nightmare Before Christmas Minimates Series 2 Foil Bag Asst. – A Diamond Select Toys release! Who says Christmas can only come once a year? This all-new assortment of Nightmare Before Christmas Minimates features eight new blind-bagged figures, including The Pumpkin King, Santa Claus, Santa Jack, the Easter Bunny, Zero, new versions of Jack and Sally, and a rare, one-per-case glowing Zero! There's a full set in every case of 18 foil bags, and each Minimates mini-figure features up to 14 points of articulation as well as interchangeable parts. Designed by Art Asylum! (Item #JUL152204, SRP: $5.99/ea.) http://www.diamondselecttoys.com/nightmare-before-christmas-minimates-series-2-foil-bag-asst

SpongeBob SquarePants Minimates Two-Packs Series 2 Asst. – A Diamond Select Toys release! Mermaid Man and Barnacle Boy… UNITE! The superheroes of SpongeBob SquarePants' undersea world have joined the SpongeBob Minimates line, and this assortment couldn't get any more super! Super-chums Mermaid Man and Barnacle Boy make up one 2-pack, with another dedicated to Super Acquaintances SpongeBob (as Quickster) and Patrick (as Elastic Waistband). Mr. Krabs' daughter Pearl comes with happy fish Harold, plus be on the lookout for a rare, one-per-case 2-pack of Robot Mr. Krabs with an angry Harold! Each Minimates mini-figure features up to 14 points of articulation as well as interchangeable parts and accessories, and each 2-pack comes packaged on a full-color blister card. Designed by Art Asylum! (Item #JUL152203, SRP: $9.99/ea.) http://www.diamondselecttoys.com/spongebob-squarepants-minimates-two-packs-series-2-asst