Tons of great stuff in stores this week for the comic fans among us.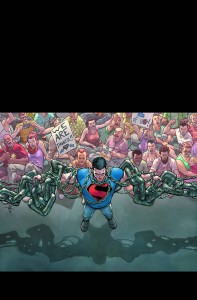 It's a flat-out terrific week for fans of… just about anything really.
Are you into The Witcher? Issue #4 of the 5 part Fox Children limited series from Dark Horse hits this week, and is a can't miss for fans as it amps up the weird factor quite a bit. Following Secret Wars over at Marvel? Then you do not want to miss Secret Wars #4 as the Marvel U-altering mini-series ramps up into its second half.
DC superheroes fan? Check out Action Comics #42 as Superman deals with the continuing fallout from having his cover as Clark Kent exposed (hint- some folks aren't happy with him), Batman Beyond #2 where Bats battles the debuting Inque, and He-Man: The Eternity War #8 which sees the origins of Skeletor as a member of the Horde (it's a flashback issue).
Lots to dig into today, so plan your trip to ye olde comics shoppe accordingly, and maybe clear away some of that schedule. You can find the full list of what's on the racks here, and as usual, read more of what I'll be picking up below.
Dark Horse Comics
The Witcher: Fox Children #4 (of 5) – see above
Barb Wire #1 – The legendary bounty hunter makes her return in an all-new series.
Valiant Comics
 Imperium #6 – Meet the weirdest member yet of Toyo Harada's squad of villains – Broken Angel.
X-O Manowar #38 – Aric gets hitched in a fantastic jumping on point, as well as a pretty revealing issue.
Marvel Comics
Secret Wars #4 (of 6) – see above
Future Imperfect #2 (Secret Wars crossover) – The Maestro takes on… The Thing.
Darth Vader #7 – You can go home again as the Dark Lord of the Sith goes back to Tatooine.
Princess Leia #5 (of 5) – The final issue sees Leia making a stand against the Empire in the name of her homeworld.
Red Skull #1 (Secret Wars crossover) – Evil gestates in the heart of Battleworld. The Skull is alive.
X-Tinction Agenda #2 (Secret Wars crossover) – X-Men vs X-Men for the future of the mutant race.
DC Comics
Action Comics #42 – see above
Batman Beyond #2 – see above
He-Man: The Eternity War #8 – see above
Green Lantern #42 – On the run and unable to investigate the disappearance of the Corps, Hal's in for a galaxy of hurt.
Mortal Kombat X #8 – Havik vs Scorpion. Round 1… FIGHT!
IDW Publishing
X-Files, Season 10 #25 – The finale! Before Season 11 begins, see how this new clone saga ends.
TMNT #47 – Baxter Stockman's Mousers are swarming NYC.
Miami Vice Remix #5 (of 5) – The final issue closes out this reimagining of the classic 80s show.