The Coop, makers of seriously cool bags and accessories themed with some of the most popular properties in the entertainment world, have a brand new lineup of The Walking Dead stuff shuffling into stores right now.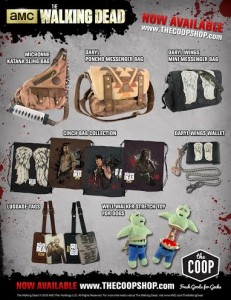 If you're a zombie… zombie, then you're going to like what The Coop has in store for you. We profiled this lineup on BG this past February after the wave was shown off at Toy Fair in NYC, and it's still just as cool as you remember now that it's finally hitting stores.
There are a plethora of bags to choose from, a wallet modeled after Daryl's famous vest, a pair of luggage tags (the Don't Open one is particularly awesome) and even a dog toy. Honestly, I don't think you can miss out on the dog toy, it's a stuffed Well-Walker. And if you remember what that looked like on the show, then you have some idea of what to expect here.
Take a scroll down the page for eh official descriptions and then check out that image to the right for a look at what this stuff actually looks like now that it's ready to ship out.
As to where you can nab all these great goodies, click here.
The first collection is made up of three durable bags – all designed to look like they could be found in the ever-popular show – and full of details that the true fan will recognize:

Michonne Katana Sling Bag – Made of a washed coppery-brown denim and treated to look worn, this versatile bag can be worn as a sling or backpack. It has faux leather accents including a super-stunning padded shoulder strap heavily inspired by Michonne's katana sword handle. Other nods to this strong character are the yarn-dyed woven cotton side panel that resembles her headband, the 'M' zipper pull that looks like the necklace she wears and the metal studs that are like those on her boots. MSRP $59.95

Daryl Poncho Messenger Bag – Crafted of the same washed denim, this messenger bag gets direct inspiration from the beautiful horse blanket that Daryl wore as a poncho. It has lots of side and front pockets to help keep you organized, and the divided padded interior can fit any size tablet. MSRP $89.95

Daryl Wings Mini Messenger Bag – This is made of a washed black cotton canvas with Daryl's iconic wings appliquéd on the flap. It is crammed with show details like the red plaid lining that is similar to shirts that Daryl wears, camo print on the underside of the strap and the side pocket has lacing similar to his motorcycle vest. MSRP $59.95

The second grouping is the graphic cinch bag collection – intended for light use, they're made of polyester with reinforced bottom PVC corners. Each of these four bags features a popular character of the show, listed below. MSRP $11.95

Daryl Wings

Rick Grimes

Michonne with her katana

And our first wallet in the collection:

Daryl Wings Wallet – an item that is selling out as fast as we get it in stock! Made of faux leather, this wallet features an appliquéd set of wings from Daryl's iconic motorcycle vest. It also comes with a 25" long detachable chain with claw clasp and a rubber zombie ear keycap (yes, you read that right). MSRP $29.95

To help you claim your stuff, The Coop has created two graphic luggage tags. Crafted from faux leather, these have a show logo on the die-cut flap to conceal / reveal your personal information card, replete with printed blood splatters. MSRP $9.95

Daryl with his crossbow

Walkers' hands as they fight to free themselves from behind the padlocked doors that provide the warning 'Don't Open, Dead Inside'

And for the dog(s) in your life, The Coop has added another item to its The Walking Dead pet collection. Remember what happened when they pulled the walker form the well? Ewwwww. You'll be reminded every time you play tug-o-war with this and your pup! MSRP $24.95

Well Walker Stretch Toy