Starring in a brand new line of Minimate 2 packs exclusive to Walgreens stores, DST's new series of Marvel figures is based on the entertainment giant's lineup of animated series.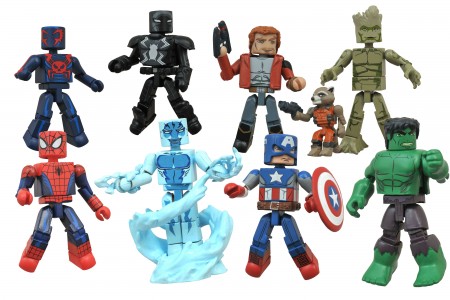 If you haven't noticed, Marvel has done a pretty spectacular job of quietly building a universe of animated TV series'. Interconnected in the same way as the company's movies and TV shows, these animated programs are loaded up with the biggest characters that Marvel has to offer, and tons and tons of guest-stars.
And stepping right in to provide some plastic accompaniment to those shows is DST with its Minimate line of 2″ figures. Packaged 2 to a pack, the first series of Marvel Animated Minimates are set to include some of the most popular characters from the cartoons.
Here's your set breakdown:
From Avengers Assemble, that show's two-pack will pair Hulk and Captain America, with alternate faces for each, plus a shield and an unmasked hairpiece for Steve Rogers.
From Guardians of the Galaxy, a two-pack of Star-Lord and Groot will come with a 1-inch micro-figure of Rocket Raccoon, as well as a blaster and a mask for Star-Lord.
From Ultimate Spider-Man; a two-pack matching up Spider-Man with Electro will come with an alternate Spidey head, a webline, lightning blasts and an energy base. Plus, Electro glows in the dark!
Also from Ultimate Spider-Man, a second two-pack will include Spider-Man 2099 and Agent Venom, with a webline.
Pretty neat lineup all around and awesome that Electro glows in the dark there. And if you're new to Minimates, yes all that stuff comes along with the two figures as bonus extra accessories. That's just one of the reasons that Minimates have been around for as long as they have, and been as popular as they still are today.
This series is exclusive to Walgreens stores, and you'll start seeing them at retail starting on September 4th. This is just the first wave too, and Diamond says that there's more planned throughout the year.