And now for something completely different; a Ninjak comic that doesn't star Ninjak.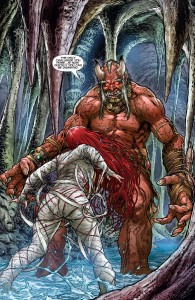 Valiant Comics' resident super-spy and all around martial arts machine has been something of a revelation since joining Unity and the current Valiant U. Not only has the ninja(k) become a fan favorite, but he's also secured his own monthly comic, and it's a darn good one at that.
The book has established a solid dual element, with one story taking place in the current Valiant time period, and one set in the recent past. The first arc, which is really still going on, followed Colin King (Ninjak) in both tales, but this issue shakes things up considerably with a pair of stories that just barely include him. And after the events of the last issue, it's absolutely torture.
Now, don't get me wrong, I still loved this issue of Ninjak, but I really, really want to know what happens next in the actual story! That's not to be though as writer Matt Kindt has a little something else in mind for this one. Namely, a trip back to see the origins of the hero's two newest adversaries- Roku and Kannon.
Rook is a near match of King herself, and an expert assassin. But she's more that just that, and that's where she gets a little edge over Ninjak- she's a suer-human capable of cellular-level control over her body. As a result, she uses her long locks as a weapon, one with deadly capabilities.
As for Kannon, he's a little more mysterious. An arms dealer in the present, it seems that Kannon has a past that brought him into contact with the same cult that trained Roku. Both of those things spell out some serious problems for Ninjak, as you'll find out from the story in its entirety.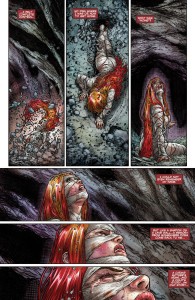 And as usual, that story is fantastically written by Kindt, who's work I enjoy immensely. He gets across plenty of detail into the lives of both Roku and Kannon in the two stories, basically giving you a history lesson on both, as though they've been around for a good long time and have featured in way more comics than the handful that they have (though I suspect that might change). There's also a pretty surprising little cameo in this issue, one that (trust me) you're not expecting and one that might just foreshadow some big things down the road (hint*hint*Book of Death*hint).
As for the visuals, this one's a team effort with work coming from Juan José Ryp and Marguerite Sauvage, as well as series regulars Clay Mann and Butch Guice. And guess what? All of it's fantastic. As is now standard with Ninjak, the two stories in the book have completely different visual feels, with the Kannon entry having a simple look, and being somewhat primitive-feeling.
That's not a bad thing by any means, as it fits the story well, but Roku's though, wow is Roku's origin absolutely stunning. The level of detail is off the charts here as we see a character getting fantastical abilities and facing some incredible foes (who all look amazing)- and that's just her initiation into the cult, which is all kinds of weird by the way.
Final Thoughts
Another issue of Ninjak and another 'must read'.
It's funny, but even when this book leaves its hero on the cutting room floor it manages to be a knockout of a comic and a surefire enjoyable read. The art is awesome and the story is perfectly paced and hints at so many cool things that I actually want to read a solo book with Roku as the star- and she's supposed to be the villain!
Even so though, that doesn't mean that I'm not seriously still looking forward to issue #5, where we return to King and his dealings with both Roku and Kannon. It's just that all facets of this book have hit the ground running and have yet to ease up any, so I don't even mind peeking into the lives of the supporting cast at the expense of the main narrative.
Yes, it's that interesting. Go read it (but try and get the first three issues first!).