Prepped to arrive on MarvelShop.com and DisneyStore.com, the latest Marvel superhero to hit the big screen is small in stature and big on a cool action figure.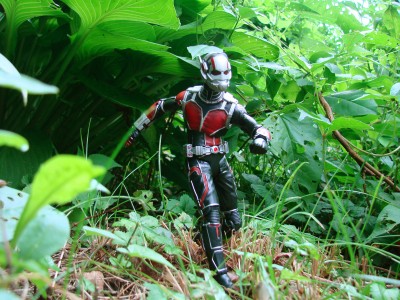 Right on queue, with his big screen adaptation set to arrive shortly in theaters (July 17th), here comes the Marvel Select figure of Ant-Man. Not just any figure though, as this special unmasked version of the toy will be exclusively MarvelShop and DisneyStore's.
Yes, before you say anything, I know he's wearing the helmet in the shots we have running here, but you're just going to have to trust me that there's a little Paul Rudd noggin in the box along with the figure. The interchangeable head accompanies the masked version (obviously), and an extra-tiny 1.75 inch version of the character to simulate his shrinking ability.
Sculpted by the great Gentle Giant studios, the figure sports 16 points of articulation, and stands 7″ tall with "display ready packaging" that has some nifty movie-art scrolled down the side.
You're able to pre-order Marvel's littlest Avenger via marvelshop.com, disneystore.com, and disneystore.eu starting right now, and shipping should take place some time later in July. That's also around the time that the figure will be making its way into brick and mortar Disney Stores across the US and Europe, so if you'd rather just pick one up at the local shopping mall, that works as well.