Two brand new ways to get a little more Teenage Mutant Ninja Turtles onto your gaming calendar are on the way from WizKids.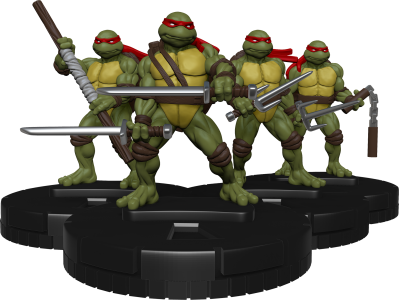 I have to confess, I've got a ton of Marvel, DC, and Indie HeroClix and have never actually played the game. Years ago, I started collecting them just for what they were- awesome little statuettes of my favorite heroes and villains. The fact that they were also a game was just the icing on the cake.
And the fact that the Turtles are now a part of that line, well, I might have to start up my collection again. And while I'm a bit of a 'Clix junkie, DiceMasters fans will be happy to know that the fab four are on the way to that game as well.
"We are very excited to partner with Nickelodeon on expanding the Teenage Mutant Ninja Turtlesbrand," said Justin Ziran, President of WizKids. "We expect fans of both Teenage Mutant Ninja Turtles and WizKids will be very pleased with the lineup of games we have in store, and we can't wait to get them in players' hands in the coming months."

"The Teenage Mutant Ninja Turtles are classic and beloved characters, and we can't wait to see them integrated into WizKids' tabletop games," said Manuel Torres, Senior Vice President, Global Toys and Publishing, Nickelodeon. "We are as excited as our fans are to see Leonardo, Michelangelo, Raphael, Donatello, Shredder and more come to life in HeroClix and Dice Masters."
Sound good? Well it's even better. Not only are the nickelodeon versions of the TMNT on the table for this deal, but so are the original comics Turtles (check out those all-red masks), all other comic book versions, and the classic cartoon show that you know and love.
And if that doesn't sound like a whole lot of awesome, I don't know what does.
No release date as of yet unfortunately on either TMNT HeroClix or TMNT DiceMasters, but they are bot expected to hit retail some time this year.