Not that NECA makes anything that isn't awesome mind you, but the first Ripley figures from the horror/sci-fi classic Alien are something else.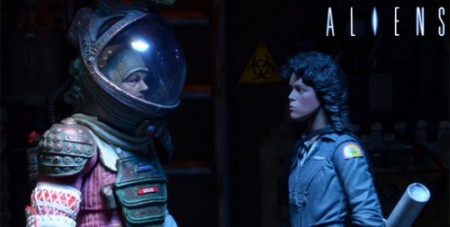 Pretty much perfect sculpts frame this pair of figures, which are the first two ever that NECA has produced of Alien heroine Ellen Ripley. They're also the first two to really get the facial sculpt right ever, meaning that they actually look like Sigourney Weaver. If you remember, there was a figure made in the original run of Alien in 1979 (I think) and a somewhat ridiculous figure produced by Kenner back when they had the Aliens and Predator licenses in the 90s.
These have no oversized hand-cannons though, and they're both made to replicate the looks that Ripley sported in Alien, and either would probably compliment your Colonial Marines (and Bishop) from Aliens just fine too. Oh, and both versions even come with a Jonsey the cat. But Ripley isn't the only character to get the toy treatment in Alien wave 4, as Dallas also gets in on the act, complete with his space suit right off the Nostromo.
There's no release date as of yet for these, but they should be on the way to retail fairly soon. In the meantime though, you can click on over to the NECA site to see even more awesome pics of these figures in action.