The fourth and final issue of Valiant Comics' Divinity is finally here, brining more answers, and even more trouble for the Valiant Universe and Unity down the line.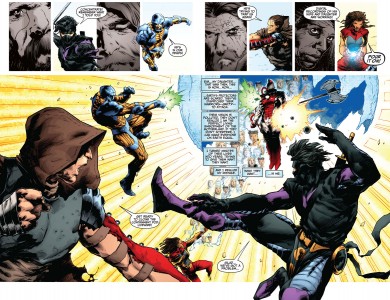 Divinity #4 is the end of the first arc for the newest, and most powerful addition to the Valiant U, that's true. It's also a beginning in many ways, showing Unity in a new light and adding an entirely new faction to the world stage that could prove to be an unsettling and disruptive one in the future.
Warning: mild spoilers ahead
So if you've been reading Divinity all along, then you already know who Abram Adams is. A Soviet (yes, Soviet) cosmonaut and galactic traveller, Abram has returned to Earth with more than just a few good stories. He's returned as a god in the strictest sense of the word. He's not interested in creating worlds though, all he wants is to bring back his now dead wife and daughter, a task that proves more trouble, even for the divine, than he had thought.
This is an epic book, there's just no other way to describe it. Between all that's happened up to this point with Divinity himself and Unity, it's been an incredibly deep and almost spiritual story. There's plenty of action to be sure, don't worry about that, but it's almost like there are two distinct stories happening at the same time in the narrative.
One that's taking place in the 'real world' with the Unity team (X-O Manowar, NInjak, Livewire, and Eternal Warrior), and one that's almost existing in another level of reality with Abram, who's fast become known as Divinity to his followers. Yes, his followers. A brand new part of the Valiant lore and sure to be some kind of issue at some point, Divinity has had an entire army of wayward souls group to him, in an effort to touch the divine.
They'll fight for him and kill for him, even if he really doesn't want them to. He's such a detached character in this issue, that it's tough to tell if he would want anything like that, but it certainly seems like he wouldn't. That doesn't matter much though, as zealots are born in seeming every faith, and the one centered on Abram is no different.
Unity is another story. They've never been a 100% cohesive team, but the members are not in synch at all about Divinity, and what they've been tasked to do. That's eminently clear after the close of the story here, and even more intriguing is the air of menace that Neville (their handler from MI-6) is putting out. It certainly seems like there's something ahead that none of them might see coming.
As you can tell from the gushing, writer Matt Kindt has once again crafted a masterpiece of a comic book with the last part of Divinity. I'm a fan of Kindt's to start with, but it really does seem like he can do no wrong and has knocked one out of the ballpark with this one. It's a deep story, as I said, and not one that you find too often in a book that's part of a mainly superhero-centered universe.
Matching things nicely too is the art of Trevor Hairsine. Hairsine has been all over the Valiant U, turning ut some great work, but he shines here, drawing some of the biggest Valiant heroes, and also all manner of cool set pieces like the always cool GIN-GR and the cont- oh I can't spoil that.
Final Thoughts
Divinity is a great book that only got better and better with each issue, right up to the amazing ending. Hairsine and Kindt did masterful jobs on the art and story, and the character himself is one that's right at home, and yet oddly separate from the Valiant U in general- and I mean that in a good way.
I can't wait to see Abram again, and we will be seeing him very soon indeed as he'll be going up against the peace of Toyo Harada's Imperium this August, before heading into the ominous-looking Divinity 2.