A pair of new figures in NECA's awesome classic video game appearances line is on the way to retail this week, with both the Sega Genesis' Predator 2's City Hunter and Alien 3 Dog Alien hitting stores.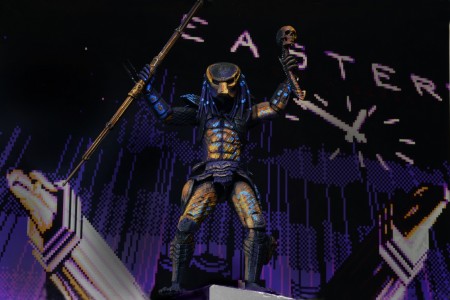 I'm a big fan of these figures, so I'm pretty much sold right off the bat, but if you have no idea what these are I'll fill you in. Basically, NECA (a toy maker) repaints already existing figures from their catalog and dresses them as they looked when they were featured in video games from way back when. They don't just stop there though, as the boxes that they ship in are like works of art unto themselves, designed to look almost exactly like the cartons that the actual games were packed in. Simply put, they're awesome.
Already they've got a sizable number of these bad boys, including characters like Rambo and Robocop vs Terminator (which actually spawned a whole series), and these two are the latest additions. The Predator is from the Sega Genesis Predator 2 game, and is the City Hunter Predator from the movie He stands in at 8″ tall and features all the accessories that you'd expect, plus a wicked color scheme, which again, is a staple of the line.
As for the Alien, the Xeno is almost 10″ tall and is a remake of the excellent Dog Alien figure that the company made a short time ago. It's maybe one of the best Alien figures ever made already, and with the cool dual-toned color scheme from the game, it'a all that much cooler.
Both figures should be available right now, or will be shortly, and are definitely worth a look if you're a fan of the properties or just classic gaming. You can read more about both of them and more here on the official NECA page for their newest releases.