It's kind of a big deal that Secret Wars and Convergence, two very similar event books, are happening at basically the same time right now from DC and Marvel. That's not to say that there's not other great stuff on the racks this week though.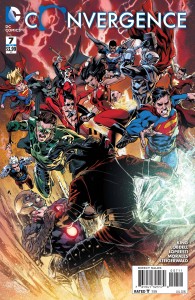 Honestly, the two biggest books are probably Secret Wars #3 and Convergence #7 though.
After having just revealed most of the crazy backstory for Secret Wars 2015 in the last issue, things are only going to get even more insane this week with the residents of Battleworld in general starting to see that there's something wrong with the status quo, and Doom in particular. And yes, if you haven't been reading, then you probably have no idea what that means, but that's all the more reason for you to go and grab the first two issues along with #3 tomorrow.
Over in DC, things are heating up in Convergence and heading towards the climax of the book, and the fallout to come. Heroes (and some villains) from across the Multiverse all team up to take down their captor. And for those who've been wanting to see the New 52 characters in this story, you're about to get your wish granted.
Outside of those (and a ton of crossover books) there's also some great stuff this week from IDW and Valiant, as well as Dark Horse, who've got he second issue of Archie vs Predator on the racks. Scroll on down to see the full list of what my picks are for this week, and don't forget to click here for the full catalog of what's available, as seen on Previews magazine's main page.
Marvel Comics
Secret Wars #3 – see above
A-Force #1 – An all-female Avengers team (made up of, like, everybody) defends their own cover of Battleworld.
Secret Wars Battleworld #1 – Crazy fights that just won't fit into the pages of Secret Wars star here.
Star Wars #5 – Luke searches for the truth as Leia and Han go on a secret mission (not a Secret Wars mission mind you).
Ultimate End #1 – The Ultimate Marvel U faces extinction.
DC Comics
Convergence #7 – see above
Convergence: Adventures of Superman #2 – Supes and Supergirl (Pre-Crisis) face off against a a planet of apes and fate itself.
Convergence: Flash #2 – Barry takes on the Tangent Universe!
Convergence: Green Lantern Corps #2 – The corps take on Hercules and a whole lot of crazy.
Convergence: Wonder Woman #2 – Diana vs vampire Joker and the creeps of the Red Rain universe.
Mad Max Fury Road Nux & Immortan Joe #1 – The prequel to the action flick to end all action flicks. See the rise of Immortan Joe and his War Boys here in this tale from the mind of director George Miller.
Dark Horse Comics
Archie vs Predator #2 – The Predator tracks the gang back to Riverdale and sets his sights on… Jughead in drag?
World of the Witcher hardcover book – An in-depth look at the series of games from CD Projekt Red, the Witcher himself, and the brutal world he inhabits.
IDW Publishing
Transformers #41 – The Combiner Wars continue.
X-Files Season 10 #24 – The penultimate issue!
Image Comics
Wytches #6 – The first arc comes to a close as the hold that Rooks family is under is revealed.
Valiant Comics
Bloodshot Reborn #2 – Ray is either going nuts or the nanites are waking up. Maybe a little of both.
Ninjak #3 – Ninjak is in a world of trouble as he faces the demons of his past, and the weaponeer he was sent to take out.