Enthusiast Gaming Live was "Toronto's Largest Gaming Communities At An eSports Grassroots Event at The International Center," and it was being held this past weekend on Saturday and Sunday.

This is the first event Enthusiast has ever put on, so expectations were high. Although, after talking with some members of the team they said they didn't hit their goal for how many people they wanted to come, there were still over 900 competitors though, and they had a turnout of about 1700 people for both days. Certainly not a flop by any means, as it takes time to build events like these.
The main focus was on the tournaments, which had a little something for everyone; from classic Counter Strike, to Dota, League of Legends, Smash Bros., and numerous fighting games. And if, like me, you came or would go purely to spectate, there were booths setup with Indie Developers and YouTubers, and even the Oculus was there.
One of my favourite parts was the panels they had. Although a misprint in the booklet caused me to miss the ones I wanted to see most, they were very well done and ranged through many topics. The future of gaming, VR Gaming, making a living on YouTube, among others. The environment was great, you could tell everyone was very into the goings on of the event. 
They also had ARAIG (As real as it gets) there, which is trying to give even more immersion into games for, of course, gamers. It is a multi-sensory feedback suit to, for example, let you know when you're being shot or hit. Certainly an interesting piece of hardware.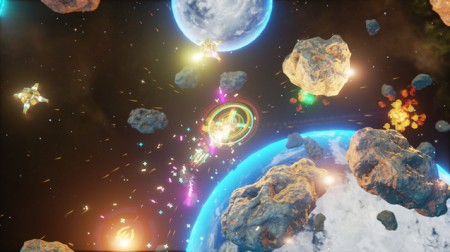 A downside for me was that it was hard to find which streamers were doing the brackets/games that I wanted to see most, so there was some aimless wandering trying to find where the next CSGO or LoL games would be. The pamphlet also had a weird layout, some of it read right-to-left unless you figured out it had to be tilted sideways, and as previously mentioned, the panels had their days backwards.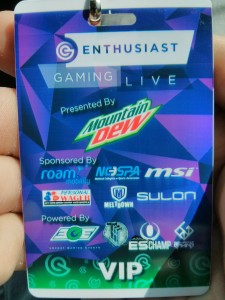 I also got a chance to play Quasar while I was there, a game currently on Steam Greenlight that still needs votes, and it's definitely worth a look. It's a top down multiplayer bullet-hell in space. I never got to see much of the details but it seemed like a great game to play when you have people over.
Would I go again? This was my first time at an event like this, but most certainly I would. I had a great time and I really hope Enthusiast does more events like these. So far, they're in the works of planing an Expo (EGX) sometime this fall, and I'm definitely going to do my best to attend.