Ninjak's latest mission gets a bit tricky in Ninjak #3, and his past gets a lot more interesting.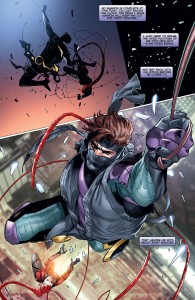 There are no fewer than three stories happing in Ninjak #3. Well, actually in the entire series up till now. They can be a little tough to keep track of at times believe it or not, but the multitude of simultaneous arcs are handled well and do manage to give you a ton of info about a character who's current incarnation fans really knew next to nothing about prior to the debut of this, his first series under the new Valiant banner.
The main story here of course, is the infiltration of the weaponeer Kannon's stronghold and organization, which takes place in the contemporary Valiant U. The bad guy's out cold the entire time this lightning quick tale is told, and his bodyguard Roku battles Ninjak in freefall down the side of a skyscraper. It's a cool scene and one that leads into a ton more action inside the building, all of which leads up to a nasty little situation at the conclusion of the book's first story.
I say 'first' because while all that's happening we flash back to Colin's youth, as he rebels against his brutal guardian. If you haven't been following, Colin didn't have the best childhood and had basically the complete opposite of Bruce Wayne's Alfred as a custodian. It's not great, and the young boy learns that he'd better do something quick to turn the tide, which is what happens here as we start to see the man who will be Ninjak come out and play a bit.
And wrapping things up, the third story goes in between these ages and continues to follow Colin's liaison with a fellow agent of the Crown, something that's strictly against the rules. But as a pre-Ninjak Colin and she meet up, someone foul plots against them in a twist that's looking like it's going to get ugly.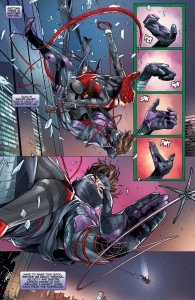 Here's the thing; all three stories are interesting, and as separate comics they'd actually all be really interesting and worth the read. I have to admit that, when I was reading this though, I did kind of wish that the main story where Colin King is Ninjak and kicking some tail, took up the entire book.
I definitely understand why Valiant is taking this route with Ninjak, as he's one of those characters in pop culture that becomes a fan favorite with zippo in the way of backstory. This three story system for the Ninjak comic really packs in the info and is definitely a way to rectify that, but it jumps around too much for my liking. It seems strange to say even though I did enjoy seeing into the character's past, but I would have liked it even more if it stayed in the present.
Matt Kind always does a top notch job though, and is basically crafting a complete history for Ninjak on the fly, as though he's already had a full series of books behind him- and we're just on #3! And as I said last time, Guice and Mann both do a terrific job with the artistic chores, albeit with very different styles.
That's not to say that both will appeal to everyone as you might find one a favorite over the other. I like a more cartoony and classic 'superhero book' style personally, so I lean towards Clay Mann's work but both are terrific and well placed on a comic like this, which toes the line between superhero and spy stories.
Finally Thoughts
For all the complaining I do about the splitting of the issue's pages between three time periods, I'm loving this book. The current Ninjak story is tons of fun and has so much cool stuff loaded into every panel that it's almost hard to keep up with all by itself. It's so worth it though, as this is a character who's got almost all the gadgetry of Iron Man, but in the stealthy suit of a James Bond… and with the martial arts acumen of Bruce Lee- all of which equals up to being a lot of fun.
It's a great book, and yet another hit for Valiant, who seems to be just cranking the out these days. But even though it does the job well enough, I wish it was more focused on one story instead of covering three. I guess it comes down to what I mentioned just above, because as fun as the modern Ninjak stuff is here, the backup story and intertwined one (where he's a kid) don't have him as that awesome character yet. They're not bad at all, but they're not nearly as much fun as seeing him take on Roku, or Kannon and his men.
At the end of the day though, is it going to keep me from reading on? Honestly? Nope, and it shouldn't stop you either.