Remember those little comic books that were included with the vintage (and some of the new) Masters of the Universe figures? Well, they're back in a massive collected tome from Dark Horse Comics.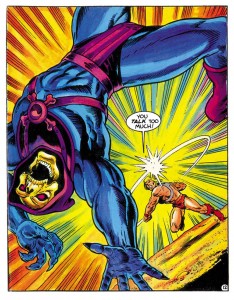 As a massive MOTU fan myself, this is a book that I've been waiting for for a long time. A long, long time. Like, since the 80s. Well, maybe not that long, since I had all the mini-comics back then, but it didn't take too long till they were all destroyed or lost or whatever, so the point is that I don't have any of these darn things now, and I want them back. Cue Dark Horse.
The new book, titled the He-Man and the Masters of the Universe Minicomics Collection, has a massive 1,232 pages and is about as complete a look at the classic comics as you could hope. The book includes all 68 of the original Masters of the Universe mini-comics, plus all of the Princess of Power minis, the "80s and 90s He-Man line" (which I assume means the New Adventures?), and an introduction to the current mini-comic series that runs in some Masters of the Universe Classics toy series. All the comics will be in production order as well.
You can expect to find this one on store shelves on October 21st of this year, and you can pre-order a copy for yourself right this very second via Amazon.com, Barnes & Noble, IndieBound, or your local comic shop.