Just about a day after making the title official, Activision has outlined some of the upcoming Tony Hawk's Pro Skater 5's finer points.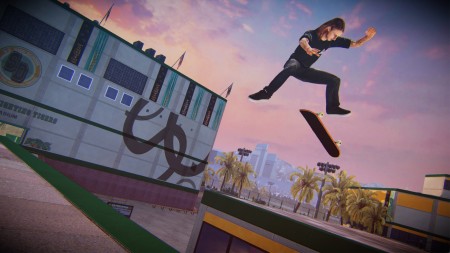 "Skateboarding has always been about the freedom of ripping with your friends, and creating a game that captures that feeling has been a vision of mine since the Pro Skater series began over 15 years ago," said Tony Hawk. "I'm beyond excited to see that dream finally come true with Tony Hawk's Pro Skater 5, which takes the old-school attitude of the original games online in a big way."
Online indeed. Oh sure, gamers who liked THPS just the way that it was will probably still get exactly what they're looking for in THPS5. Activision and developers Robomodo and Disruptive Games have said as much with their comments on the game. It'll offer the same challenges and "signature style" as the older titles in the series with "the same infamous focus on daring objectives, fine-tuned controls and high-score tricks – including manuals and reverts – for endless shredding", but there's a lot of 'new' here too.
THPS5 will have power-ups and projectiles added into the mix, as well as an updated roster with a bunch of the best pros from today including Tony Hawk himself, Nyjah Huston, Riley Hawk, Aaron "Jaws" Homoki, Ishod Wair, Leticia Bufoni, Chris Cole, David Gonzalez, Andrew Reynolds, and Lizzie Armanto. And of course, if you don't like what the game has to offer interns of playable characters, you can always just make your own.
In terms of online though, this is where the game really opens up and goes into virgin territory for the franchise. Drop-in and out play is offered here, so you can pop into and out of your friends' sessions as you please. You'll also have the opportunity to complete "missions" in the online arena and even unlock new content. You'll also be able to compete in versus matches, and even build up your own skateparks and share them with the world.
There's a lot to like here for series fans, and hopefully a lot more will be shown sooner than later, as there's an audience that's more than a little skate-starved. Expect to see the game itself, Tony Hawk's Pro Skater 5, hitting the PS4 and Xbox One, as well as the Xbox 360 and PS3 some time later this year. A release date is on the way too, ash we'll let you know what that might be as soon as we do.