Lots of great incoming goodies on the way from Diamond Select Toys, including maybe the coolest set of Minimates ever (hint- Predator).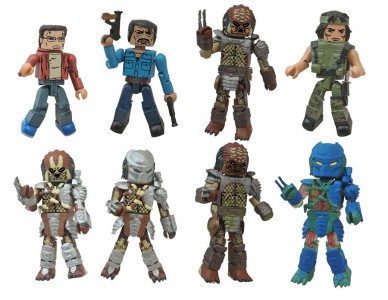 Seriously cool are the new Predator blind-bagged figures. I saw these bad boys at Toy Fair this past February and now I can finally talk about them! They are as cool as they look, and feature some of the most stand-out designs to ever grace one of those little mini-figs. And even the human characters are cool as you'll find a mix of guys from Predators and the original film, like Billy!
Lots of great stuff here though, not just Minimates. There's a Lt.Worf bank from Star Trek: The Next Generation, the first figures from Fox' hit Batman prequel Gotham, those awesome new Ghostbusters figures and more. Scroll on down for the full list of what's set to arrive in stores over the next few months.
Batman Classic TV Series Catwoman Resin Bust – A Diamond Select Toys release! Batman's rogues gallery continues to grow as Catwoman joins the Riddler and the Joker in DST's line of busts, based on the Classic Batman TV Series! This 6-inch-tall resin bust depicts Julie Newmar as Catwoman, perched atop a colorful base inspired by the show's animated opening credits. Even with her mask on, Catwoman's hypnotizing beauty will have Batman baffled! Packaged in a full-color box with a certificate of authenticity. Designed by Barry Bradfield! Sculpted by Jean St. Jean! (Item #MAY152172, SRP: $59.99) http://www.diamondselecttoys.com/batman-classic-tv-series-catwoman-resin-bust
Batman Animated Series Femme Fatales Poison Ivy PVC Statue – A Diamond Select Toys release! DST's line of Femme Fatales PVC statues based on the women of the DC Animated Universe continues with Poison Ivy! Based on her appearance in Batman: The Animated Series, this PVC statue of the plant-loving Pamela Isley stands 9 inches tall atop her diorama base, and depicts the villainous vixen visiting with a vine-like friend, perhaps discussing how best to entangle the Dark Knight. Packaged in a full-color box window box. Sculpted by Steve Varner Studios! (Item #MAY152173, SRP: $45.00) http://www.diamondselecttoys.com/batman-animated-series-femme-fatales-poison-ivy-pvc-statue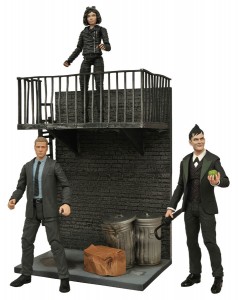 Gotham TV Select Action Figures Series 1 Asst. – A Diamond Select Toys release! One of the hottest shows on TV is Gotham, a look at the crime-ridden streets of Batman's hometown. Now, the hit show is an all-new line of Select action figures! Each 7-inch scale figure comes with character-specific accessories, as well as a deluxe diorama base representing a location in Gotham City: The Penguin comes with a pier, Jim Gordon comes with an alleyway, and Selina Kyle comes with a fire escape – connect Jim and Selina's bases to form a larger scene! Each figure features approximately 16 points of articulation and comes packaged in the famous display-ready Select packaging, with spine art for easy shelf reference. Sculpted by Gentle Giant! (Item # MAY152171, SRP: $24.99/ea.) http://www.diamondselecttoys.com/gotham-tv-select-action-figures-series-1-asst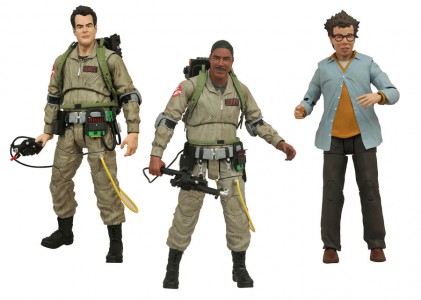 Ghostbusters Movie Select Action Figures Series 1 Asst. – A Diamond Select Toys release! After years of producing a variety of quality Ghostbusters products, DST is finally tackling 7-inch-scale Select action figures! With 12 releases planned in the line, the first three will be Ray Stanz, Winston Zeddemore and Louis Tully, each with detailed sculpts, exacting likenesses and character-specific accessories. Each figure will also include a diorama piece – collect all twelve to build the rooftop battle scene from the end of the film! Each figure features approximately 16 points of articulation and comes packaged in the famous display-ready Select packaging, with spine art for easy shelf reference. Sculpted by Gentle Giant! Coming in Series 2: Peter Venkman and Egon Spengler! (Item #MAY152168, SRP: $24.99/ea.) http://www.diamondselecttoys.com/ghostbusters-movie-select-action-figures-series-1-asst
Ghostbusters Logo Bottle Opener – A Diamond Select Toys release! You have the tools, you have the talent… but do you have a bottle opener? When you've defeated an invasive supernatural entity, and it's time to celebrate with a cool beverage, be sure you have this 3" metal bottle opener handy. Scultped in the shape of the Ghostbusters logo, this opener has magnets on the back so it will stick to your refrigerator, containment grid or the hood of the Ecto-1. Packaged in a full-color slipcase.  (Item #MAY152169, SRP: $18.00) http://www.diamondselecttoys.com/ghostbusters-logo-metal-bottle-opener