"Your source for the Force". TRU's everywhere are getting into that Galaxy Far, Far Away this May the 3rd and becoming Destination: Star Wars.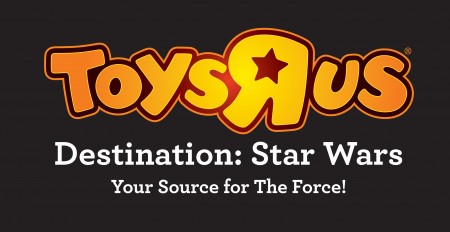 No, not on May the 4th, but starting on the third of next month, Toys R Us will be starting up some Star Wars-themed festivities in what's fast becoming a big year for the franchise. With the brand new TV series (Star Wars Rebels), the new film on the way, and countless new action figures and LEGO sets hitting stores, 2015 is looking like it might be the biggest year for the property in, well, pretty much ever.
And you'll be able to find all that neat stuff at Toys R Us stores, and then some. May 3rd is set to be Star Wars Day at TRU's, as the stores will invite kids and adults alike to stop in dressed as their favorite Star Wars characters from 12 noon to 2pm. You'll be able to snap some pics with Geoffrey the Giraffe, build some special LEGO sets, and win some to take home too!
That's not all either, as there's a $1,000 Toys"R"Us gift card and a trip for four to Toys"R"Us Times Square in New York City this Fall to be had as well. The Force is pretty darn strong with that contest. For more info on that, you can head over to TRU's special web page for the event here.
As for the rest of the happenings, scroll on down the page for a deeper look at what May the 3rd will bring to Toys R Us', as well as some of the coolest stuff on tap for the rest of the year (including Star Wars Battlefront), and some exclusive items that you'll find nowhere else in the galaxy.
The Force is Strong In-Store and Online

Whether searching for a collectible Luke Skywalker action figure, a must-have Death Star construction set or the latest Darth Vader role play item, Toys"R"Us is a one-stop shop for hundreds of playthings based on classic Star Wars characters, scenes, vehicles and more. Throughout 2015, customers will find fantastic promotions and discounts on these fan-favorite items in-store and online, starting with an out-of-this-world Buy One Get One 40% OFF ALL Star Wars merchandise offer, valid from Sunday, May 3 through Saturday, May 9 at Toys"R"Us stores nationwide and online at Toysrus.com.**

Additionally, gamers can gear up for adventure by preordering Star Wars Battlefront™, the ultimate Star Wars video game experience, at Toys"R"Us stores nationwide and online at Toysrus.com. Developed by DICE – creators of the award-winning Battlefield series – the game will be available November 17, 2015and will allow players to immerse themselves in the epic Star Wars battles they've always dreamed of and create new heroic moments of their own.

To provide customers with an immersive, digital destination for all things Star Wars, the company has created an online Star Wars hub at Toysrus.com/DestinationStarWars, which will showcase video content, event information and more in the coming months.

In preparation for the debut of the new 2015 film, Star Wars aficionados can add to their collections and shop the following Star Wars Saga products, available now exclusively at Toys"R"Us stores nationwide and online at Toysrus.com/StarWars:

LEGO® Star Wars™ Battle Droid Troop Carrier from the LEGO Group

Bring in reinforcements at the Battle of Naboo with the LEGO®Star Wars™ Battle Droid Troop Carrier. Star Wars enthusiasts can help the Pilot Battle Droids unload the racks of Battle Droids and detachable blaster racks before the Gungan Warrior has time to take aim and fire. As featured in Star Wars: The Phantom Menace, this detailed transporter also features a detachable driver compartment that can be attached at either end, as well as hidden wheels to help it glide across the floor. The set includes a Gungan Warrior minifigure with a weapon, plus 2 Pilot Battle Droids and 12 Battle Droids with weapons. No batteries required. Ages 8 to 14 years.

LEGO® Star Wars™ Coruscant Police Gunship from the LEGO Group.

Slide open the cockpit, jump in and get ready to transport the Clone Shock Troopers into the heat of battle with this 481-piece LEGO®Star Wars™ set. As featured in Season 5 of Star Wars: The Clone Warsanimated TV series, the Coruscant Police Gunship has sliding doors, folding wings and landing gear, 2 spring-loaded blasters and a rear weapon compartment containing 3 lightsabers and 2 blasters. Little builders can then deploy any of the 4 included minifigures: Anakin Skywalker, Ahsoka and 2 Shock Troopers. No batteries required. Ages 8 to 11 years.

Operation Star Wars™ Edition from Hasbro®

It's the game that brings Star Wars to the operating room. Little surgeons will be challenged to find and remove some special Defective Droid parts that are giving C-3PO and R2-D2 trouble. Players will find a Pain in the Neck, a Bad Memory Module, a Hiccupping Hologram, a Cranky Crankshaft and more. They can also earn Galactic Credits for successfully extracting these pesky parts from Droid friends. Caution is required, as R2-D2 will whistle and beep if kids touch the metal sides. Hands will have to be steady to win in this intergalactic version of Operation. Requires 4 "AAA" batteries (not included). Ages 6 years and up.

Star Wars™ R2-D2's in Trouble® Star Wars™ Edition Game from Hasbro®

R2-D2 is stuck in a force field in this Star Wars™ version of the classic Trouble® game, and it's up to Luke Skywalker and C-3PO to set him free. When players move their pawns all over the board, the Pop-O-Matic die roller even makes real R2-D2 sounds. The player who gets them all to the finish area first, wins! Requires 3 "AAA" batteries (demo batteries included). Ages 5 years and up.