If you were wondering what was happening with Mega Man creator Keiji Inafune's incredible looking platformer Mighty No.9, well, wonder no more because it's on the way to consoles and the PC for this Autumn.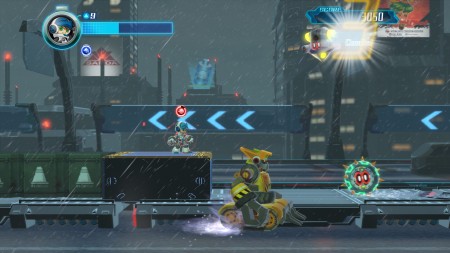 I was literally just thinking about Mighty No.9 and wondering what was going on with it. Talk about synchronicity, because here we with Comcept (the game's developer) and publisher Deep Silver announcing a deal to bring the long-awaited game into gamers hands this Fall.
"This is a great opportunity for comcept: The partnership enables us to deliver Mighty No. 9 to a wider audience while adding some great extra value to the game," says Keiji Inafune, CEO, comcept. "We are confident that the extra content will be worth the wait."

"The incredibly successful Kickstarter campaign for Mighty No. 9 through Keiji Inafune and his team has shown how huge their fan base is and how much anticipation there is for a true spiritual successor of classic side-scrolling action games. Deep Silver is proud to publish this game and help comcept in bringing their vision to life," said Klemens Kundratitz, CEO, Deep Silver.
The title will arrive as both a physical boxed edition as well as a digital download, depending on the platform that you're looking to play on. Those buying in for the Xbox One, PS4, and Wii U (yay!) will get both versions, so you can pick your preferred way of purchase, while the Xbox 360, PS3, Mac, and PC (Linux and Windows) will be released digitally only. All of those editions will arrive this Fall though, on September 9th.
If you're looking to get the game for the Vita or 3DS though, you will have a little longer to wait than the big console's versions, as there's no release date announced for those yet.
Aside from actually bringing the game to audiences, the Deep Silver agreement will also allow Comcept to bring even more of Mighty No.9 to global players. And with 67,226 backers from the kickstarter campaign that helped create the game, that's a very good thing indeed.
Here's what you'll get:
 'Ray' DLC: An all-new stage including an epic battle with Beck's rival Ray that, upon completion, unlocks Ray as a playable character for the entire main game, adding unique skills and all-new gameplay mechanics. The stage will be available as additional downloadable content, adding huge replay value. This extra content will be included in all retail editions and will be provided free to all Kickstarter backers of the project, upon release of the game.
• Voice-over support: Japanese and French voice-overs have been recorded and will be added to all versions of the game alongside the already planned English VO.
• Localized versions: Deep Silver will provide localized versions with subtitles in English, Spanish, French, Italian, German, Russian, Polish and Brazilian Portuguese languages.