Yes, the month is pretty much over, but Nintendo still has a few little nuggets of gaming goodness ready to hit the eShop in the rainiest month of the year.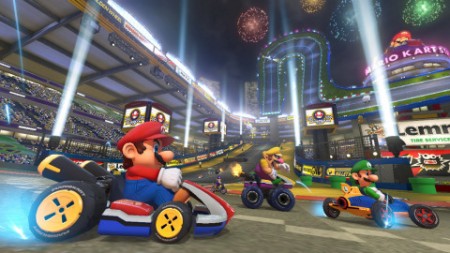 Do you like Mario? How 'bout Super Smash Bros? Okay then, chances are you'll have something to enjoy the rest of this month on the Wii U.
Nintendo has outlined the major offerings posting to its digital download service, the eShop, for the last little bit of this April. Basically, there's Mario Kart 8 and Super Smash Bros DLC, those free-to-play-for-a-few-minutes Amiibo games, and the demo for Puzzle & Dragons Super Mario Bros. Edition.
Actually, not a bad lineup of new stuff at all since the month is pretty much over with only a week to go.
Mario Kart 8 DLC Pack 2 (available now): By now you probably already know about the second DLC pack, which adds three new characters, eight new tracks and four new vehicles. It's available for just $7.99, or you can get both DLC packs for $11.99 in the Nintendo eShop on Wii U. See details on the Mario Kart 8 DLC website: http://mariokart8.nintendo.com/dlc/#dlc-ac
Mewtwo DLC for Super Smash Bros. (available April 28): Mewtwo will soon be available to everyone. Players can buy the Wii U or Nintendo 3DS DLC for $3.99, or get Mewtwo for both games for just $4.99. Here's the Super Smash Bros. DLC website: http://www.smashbros.com/us/dlc/index.html
amiibo tap: Nintendo's Greatest Bits (confirmed for April 30): Download the game from the Nintendo eShop for Wii U, then tap any amiibo to your Wii U GamePad. You'll unlock a random playable three-minute scene from a classic NES or Super NES game. It's a cool way to extend the playability of amiibo. Here's the game page: http://www.nintendo.com/games/detail/FHXK5fELXvygJ9ALk2bqyATmG-iDm07q