Okay, so you may have heard that this little trade-off, where Dark Horse was trading retailers covers of Star Wars #1 for a super-rare Barb Wire #1 variant, was a joke for April Fools. Well, it's actually not.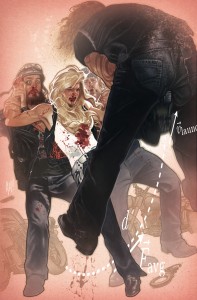 As you might know by now, Dark Horse Comics published Star Wars comics for a good long while. Last year though, a deal was announced whereas Disney would be pulling the rights to the IP and giving it to their own, in-house publishing brand. You might know them as Marvel Comics.
So with Marvel now publishing their own line of Star Wars books, Dark Horse announced on April Fool's Day that they were offering an ultra variant cover of Barb Wire #1 to retailers who could send them 5 covers from Marvel's first Star Wars issue. Basically, a cover from that issue would mean that no one bought it, so it's kind of a little jab at the rival publisher to ask for them.
"We have been and remain huge Star Wars fans and as such we wanted to do our best to help promote Marvel's new series," said Dark Horse president and publisher Mike Richardson. "No retailer who is a true Star Wars fan would destroy his or her own first issue, so what better way to pump sales than by offering a reward for ordering extra copies? Of course, we're hoping that Marvel returns the favor by offering an exclusive Star Wars cover for every 20 Barb Wire covers it receives. Seems fair and what better combination exists in this or any galaxy than Star Wars and Barb Wire?"
*ahem*
Folks (rightly) thought that the email press release was an April Fool's prank at the time. We actually didn't even run it on BG since we chose not to run any jokey stuff this past April 1st. But you know what? It's not a joke anymore.
To put it simply, Dark Horse has announced that the deal (which stays the same as the 'joke' version) will net retailers a free Barb Wire #1 ultra variant edition in exchange for 5 covers from Star Wars #1 from Marvel Comics. No second or third printings are eligible in this promo, it's gotta be the first issue and the original print run, which is definitely going to make for some interesting conversations in comic book shops across the nation.