Square Enix' next go at Deus Ex looks like it'll be called Mankind Divided, and once again slip players into the cybernetics of Adam Jensen.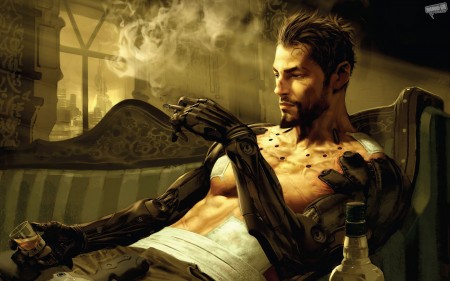 True, Human Revolution wasn't quite the revelatory game that the first Deus Ex title was years ago, but it wasn't all that bad either. And it looks like, from today's potential leaked info, that publisher Square Enix agrees. The house looks like it has a brand new game in the series ready for announcement some time soon, and so far we actually know a decent amount of info on it.
According to a Russian website named Kanobu, the game will be called Deus Ex: Mankind Divided. The title will once again feature the hero of Human Revolution, Adam Jensen, who's sporting a new set of upgraded parts and augmentations, which carries over the usual themes from the series. Mankind Divided also will be a first-person stealth-shooter, with third-person cover mechanics according to the site, which sounds a lot like Human Revolution.
No release date as of yet of course, since this isn't an official announcement, but we do know that the publisher is running some kind of weird special presentation on its Twitch channel right now, and industry site MCV points out that the company has a new game in the works from one of their development houses that's yet to be revealed. That could easily be Mankind Divided. And then of course, there's the fact that they copyrighted the name Deus Ex: Mankind Divided last year. So, you know….
More as it's revealed.
Source: MCV