Some of the coolest looking Teenage Mutant Ninja Turtle figures on the market are ready for pre-order through Diamond's Previews magazine.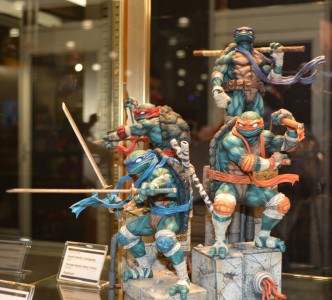 If you're a TMNT fan, there's probably little chance that you wouldn't love to have these bad boys on your desk. The fab four are heading to retail courtesy of the Good Smile Company, and currently all available for pre-order via Diamond's Previews magazine, that comic shop mainstay that you normally lean on for all your upcoming goodies news.
Donatello, Michelangelo, Raphael and Leonardo are all on the way, and will be hitting comic book shops throughout this coming year, ending with the just-listed Donatello this September. Based upon the artwork of James Jean, the four figures combine into one display featuring a base that's done up to look like a marble rooftop in NYC. Each one is uber-detailed too, featuring tons of sculpting on "each shell, skin texture, and weapon of choice".
The figures will cost you $129.99 USD but will hit in stages, so you don't have to worry about ponying up all at once. And with field-leader Leonardo arriving this month, Michelangelo coming in May, Raphael debuting in July, and Donny landing in September, you should have plenty of time to save those pennies for all the turtley goodness to come.
The Good Smile Company wasn't really on my personal radar for anything, but man, with the looks of these guys, that's changed big time. Get your pre-orders in now with Previews at your local comics shop.