Three more Kenner Predator re-makes are on the way to retail, courtesy of NECA.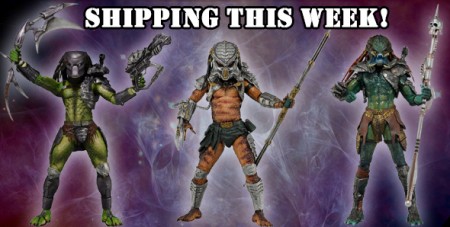 NECA's Predator line has become a pretty varied collection over the years. Not only has the series, now in its incredible 13th wave, seen the launch of Predators from the Dark Horse Comics and movies, but there's been an impressive amount of re-releases of the old Kenner stuff as well.
That toy company's Predator series was one of my personal favorites from the 90s, but man do these guys blow those figures away. Though they're technically remakes, complete with sculpting and paint apps to match the originals, these figures are light years ahead of those older models in pretty much every way.
Standing in at about 8″ tall and sporting over 25 points of articulation, series 13 of NECA's Predator line includes the Renegade, Scavage, and Cracked Tusk Predators, all of which originally debuted in the Kenner line. Unlike the other two, who carry weapons that have already seen release in the line, Renegade (the first one in the shot above, left to right) will come packed with all-new hardware straight from the Kenner toys.
All three of these Predators should be stalking retailers and online storefronts very soon. If you'd like to read more about wave 13, click here for NECA's official blog.