The publishing powerhouse known as Deep Silver has just cracked the doors on a new studio, and made official the release date for their Homefront sequel- The Revolution.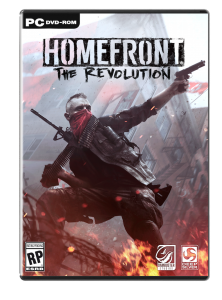 Dubbed Dambuster Studios, the new house was actually founded in July of last year and is situated in Nottingham, UK. With Has it Zala at the helm, the studio is 126 people strong and is in command of the very much anticipated open-world FPS Homefront: The Revolution.
We are excited that Deep Silver's acquisition of the Homefront IP and assets from Crytek has allowed development of Homefront: The Revolution to continue with minimum disruption," said Hasit Zala. "The team here believes we are working on something truly special."

"Dambuster Studios are an extraordinarily talented group," said Dr. Klemens Kundratitz, CEO Deep Silver. "We are giving the team every opportunity to turn Homefront: The Revolution into a best-selling title, and have set a 2016 release date to provide them the time they need to achieve this. You can expect to hear more about the game later this year."
I'd imagine that there are more than a few gamers who are looking forward to hearing more. Homefront: The Revolution is the sequel to a game that's become something of a cult hit, and was already looking great when former publisher THQ folded and the IP was picked up by Deep Silver. Though we haven't really seen more than the box art above in a while, it seems like the game is on a solid track.
Still, don't expect too much info anytime soon, as all Deep Silver will commit to in terms of a release date is '2016'. Better than nothing though, right? As to what platforms that Homefront: The Revolution is on track for, you can expect it on the Xbox One, PS4, PC (Windows and Linux), and Mac.