Diamond will be offering the whole lineup of cult classic characters from Big Trouble in Little China, but that super-cool, glowy Lo Pan will be exclusively theirs.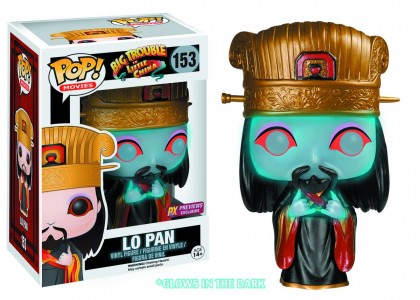 Big Trouble in… very Little China. Funko's newest POP! line of vinyl figures is centered on the classic action/comedy/fantasy flick that starred Kurt Russell and a whole bunch of mystic baddies out for his head. While Diamond will be carrying the whole line and offering them in comics stores everywhere, they do have one exclusive out of the bunch that you won't find anywhere else.
Glow-in-the-dark Lo Pan emits a cool blue glow when you charge him up with some light and then put him in the dark, which is kind of fitting for the wizard who plagued Chinatown in the movie. Kind of a bonus too- he looks neat when he's in the light too with one of the great, cartoony sculpts that the line is known for.
The series includes not just fan favorite Jack Burton and a regular Lo Pan, but also Gracie Law, and the mystic Lightning, Thunder and Rain bodyguards of the evil sorcerer. The whole lineup is available now in your friendly neighborhood comic shop.