Ubisoft's final 'last-gen' Assassin's Creed title finally makes landfall onto the PC today.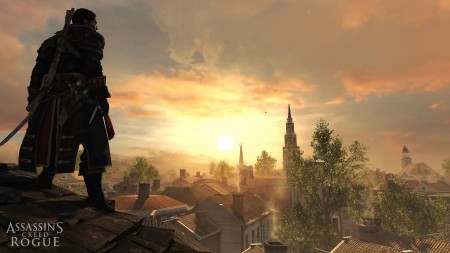 Rogue might not have been the best received AC title of all time (we didn't love it), but I'll say this; if you're going to get a version for yourself, this looks to be the one. Aside from the mechanics, which aren't changed for this new release, the looks seem to be head and shoulders above what was released on the PS3 and Xbox 360 last Fall. So if you're a graphics fan (and who isn't really), then you might be a little happier with the PC version of Rogue.
Coming out of Ubisoft Sophia, the game follows Cormac, who is not your usual Assassin. And by that, I mean that he's not an Assassin… anymore. Set against his former brotherhood, Cormac's quest takes place during the Seven Years War (which took place in the mid-1800s), where he hunts and kills members of the Assassin's guild for the Templars. Rogue is steeped in deep winter too, with action taking place in the "frozen North Atlantic, the Appalachian River Valley and New York".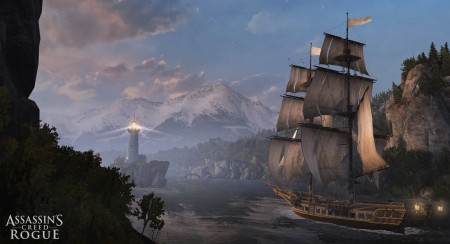 There's a lot different in this AC title, though it definitely plays similar to Black Flag and other titles in the series. If you've wanted to give it a shot, but haven't pulled the trigger yet, this seems to be the one to get. Want the specs? Check out the sheet below.
PC CONFIGURATION (Minimum and Recommended)
Minimum PC configuration
OPERATING SYSTEM:
Windows 7 SP1 or Windows 8/8.1 (64bit versions only)
PROCESSOR:
Intel Core2Quad Q6600 @ 2.4 GHz or AMD Athlon II X4 620 @ 2.6 GHzH
RAM:
2GB
VIDEO CARD:
nVidia GeForce GTS450 or AMD Radeon HD5670 (1024MB VRAM) or Intel HD4600
DIRECT X®:
DirectX June 2010 Redistributable
DVD-ROM DRIVE:
Only required for the Disk installation ( 1 Dual Layer DVD )
SOUND CARD:
DirectX Compatible Sound Card with latest driver
HARD DISK:
11.4 GB
PERIPHERALS:
Xbox 360 controller, Tobii EyeX Controller, SteelSeries Sentry
MULTIPLAYER:
Not Available
SUPPORTED VIDEO CARDS AT TIME OF RELEASE:
NVIDIA GeForce GTS 450 or better, GeForce 500, 600, 700, 900 series
AMD Radeon HD 5670 or better, Radeon HD 6000, 7000, R7, R9 series
Intel HD4600, HD5200
Note: Laptop versions of these cards may work but are NOT officially supported.