Marvel has a pretty interesting little promo item coming up in the form of the Battleboard. This fold-out map displays the full breadth of Battleworld in all its patchwork glory.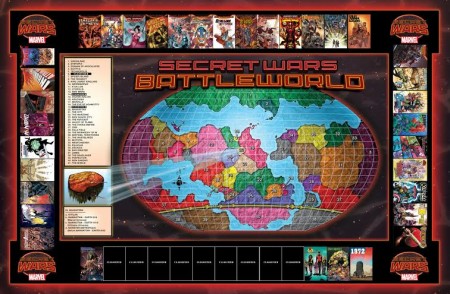 Yep, that's Battlworld alright, and it's only available at your local comics shop as a promo item for the upcoming Secret Wars crossover. The Marvel Universe re-defining event is set to smash into comics shops starting very soon now, and the Secret Wars Battleboard will help you keep track of all the in the different Warzones of the mysteriously assembled planet that sits as the last remnant of Marvel's multiverse.
The board, which is full-color, printed on laminated cardstock, and folds-out into the full 13.25 x 20.375 map, will launch right next to the first issue of the main Secret Wars series this May. It'll be a part of the 'launch party' that'll be taking place in comic book stores nationwide, and the final map will have images of every cover from the Secret Wars line of books that'll be launching throughout May and June in place of those blacked-out images you see above.
Think of it kind of like a scorecard for the biggest Marvel event of the year, possibly of the last few years. Secret Wars kicks off on May the 6th.