Originally announced just for the Xbox One, the excellent space-sim Elite Dangerous is coming to the PS4 as well at some point, and both games will share the PC version's galaxy!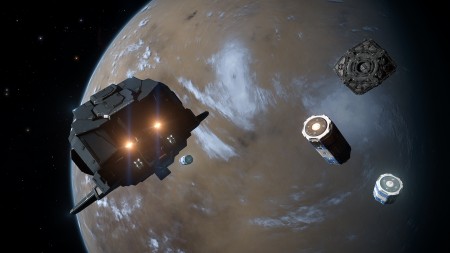 This is kind of a big deal in a few ways really. For starters, Elite Dangerous is a fantastically deep and gorgeous game set in the vast expanse of deep space. Developer Frontier's epic gem of a title literally has an almost limitless galaxy for gamers to explore too, and tons of missions and things to do.
And it's a very good thing that the playspace is that massive too, since both upcoming console versions will be sharing that same space with the already available PC edition. Yep, that's a three-way cross-play right there. Actually, make that 'four-way' since the Mac version will also be sharing in that final frontier- and that's gotta be a first for the gaming industry.
Frontier's David Braben has also gone on record as saying that the game will not be dumbed down at all for the console release, and that PC gamers needn't worry about the PC version suffering any as the company will also not be slowing down any on supporting that. Basically, since it's the same game (and presumably sharing the same assets) across all platforms, future updates will take effect across all of them. Parity!
Also just announced is that the Xbox One version will be a console timed-exclusive. So if you're a PS4 gamer, this monster of a space-sim is coming to your platform of choice as well. No word on just when that might be though, and there's no release date for the Xbox One edition either right now. Sit tight though, and we'll have it for you as soon as it's announced.
Source: MCV