Diamond Select Toys has a bunch of cool stuff in your local comics shop this week including the long-awaited Minimate versions of some fan-favorite Aliens characters.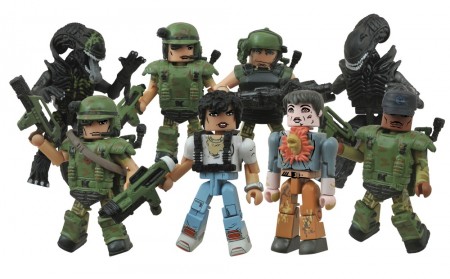 As a big fan myself of the first two Aliens films (lets not speak of the latter pair), I'm pretty excited about this new set of Minimates as they have some of the best characters from the second film, as well as some wicked xenomorphs, and that super cool infected colonist.
Other than space bugs, DST also has a fantastic Lt. Worf from Star Trek: The Next Generation on shelves this week. A part of their Star Trek Select line, Worf has the usual trappings of that figure set like interchangeable parts and appropriate accessories like a phaser rifle. And his base clicks together with that of the already released Captain Picard to make a cool display for your desktop or shelf.
There's a few more cool little items this week though, like stuff from View Askew, Godzilla, and even My Little Pony, so have a look through the listings below and then make your way to your local comics shop of preference and nab what you want!