Imagine a giant cauldron, being employed by some mystical techno-witch. She sprinkles a bit of the Alice games, and then throws the tale of red riding hood in with a side of steam/clockpunk fairy tales. Poof! She peers into the cauldron, and Woolfe: The Red Hood Diaries appears.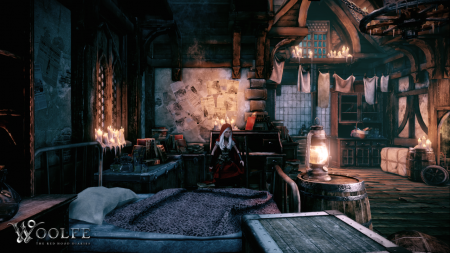 Woolfe is something special, like when your parents read you fairy tales for the first time. You're exposed to a world that's familiar, but different enough to be intriguing. Woolfe: The Red Hood Diaries tells the tale of Red, who's on a hunt for vengeance after B.B Woolfe has her father murdered. Familiar characters appear to help or hinder Red on her quest, including The Pied Piper, Granny, and the Wolf himself (I wonder who he could be…).
Woolfe is plenty beautiful, with lots of detail and care taken in creating the level designs and environments. I was often in awe at the sheer beauty of the environments; I dare you not to take a moment to admire how cool the Forest is. But let's not leave out the rest of the environments, as the amount of time and effort put in to these levels to make them look lived-in but austere, and to really capture that sense of a totalitarian regime seizing control in every possible way, is astonishing and honestly quite incredible.
The Woolfe art team has done a really phenomenal job. The music conveys a very real sense of apprehension and danger in every step, mirroring the very things the story itself conveys in an equally fantastical (and fantastic) way. I'm secretly hoping the OST will be available in some fashion.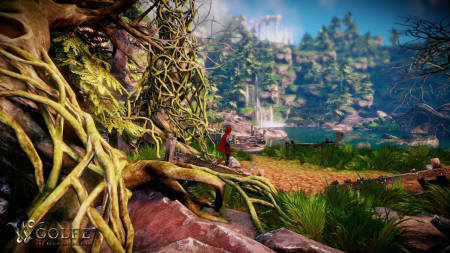 The main component of the game is the platforming and navigation, and as the March 21st release date gets closer and closer, the quality of the gameplay improves more and more. Smoother animations, more responsive (and more pleasant) audio feedback, and even the combat is being improved. And the devs haven't stopped there!
They're constantly adding quality-of-life additions to the game, like tooltips and better chapter select options (the most recent additions as of yesterday's update). GRIN (the developer) has also been very keen on community feedback, both from their kickstarter backers and Steam Early Access customers. I even tweeted to the developer about some minor bugs and help, and they not only responded pretty quickly, but they did so with the utmost politeness and respect. This kind of involvement only further increases my respect for GRIN; a developer who works hard and actually seems to care about the people who buy and play their products.
If you have the $10.99 to get the Steam Early Access, I highly recommend picking up Woolfe: The Red Hood Diaries. Even in it's unfinished state, it's a fantastic game that deserves all of the support and recognition it's getting and much more. I'm looking forward to seeing just how much things will change in the 3 weeks til release, and providing a followup review.
It's rare that an early build/beta has me this excited; the only other times it's happened were for Guild Wars 2 (and that was almost 3 years ago) and True Fantasy Live Online (which died before release more than 10 years ago). I don't give this kind of praise often, but I recommend that you give your money to GRIN. This is definitely a must-buy indie title, and so far one of the best releases in 2015.