Toys R Us stores are about to get an fresh infusion of The Walking Dead, as the latest wave of TWD Minimates are on the way from DST.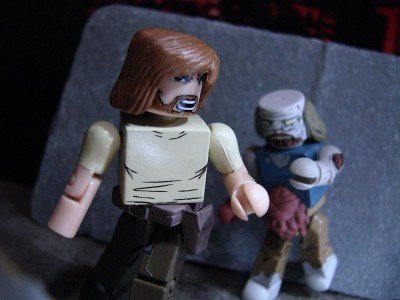 Diamond Select has a really nice line with the Walking Dead Minimate series, with an even balance of zombies and characters from the runaway hit comic-turned TV sensation. This latest set of two-packs is themed after issues #115-126 of the book, and includes a bunch more fan-favorite characters from the comics, plus four more zombies, some of which are sporting some neat little gross-out features and one of whom is a poll-winner that's been picked by the fans for inclusion (prom zombie).
Have a look at the descriptions below to see who's paired with which undead creep, and what looks they'll be cast in. The new line arrives in Toys R Us stores this month. Also worth noting is that the tradition of a comic book shop wave that accompanies the TRU releases will be upheld, and you can look for a set featuring Jesus, Dwight, Chris, Derek, and Holly to appear as well.