The next Fable game is definitely going the free-to-play route, but that might not be a bad thing.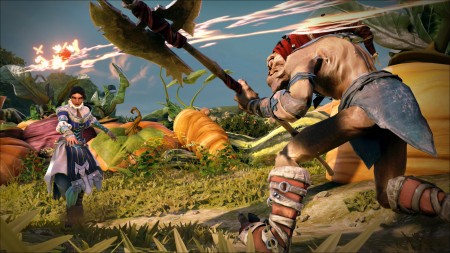 Actually, the f2p scheme thought up by Microsoft and developer Lionshead sounds kind of… neat? No really, stay with me here for a second, because this isn't the free-to-play 'trap game' that you might automatically assume it is (with good reason mind you). Personally, I don't think there are too many gamers who could claim to be more anti-free-to-play than I am, but even I don't really mind this one.
Here's the deal; Fable Legends will 'ship' with a quest's worth of content, which'll take you through a campaign for free. You build your hero from four types and embark on your adventure just as you would in any other Fable title. So, here's the hook- your character times out after two weeks and gets locked away for a bit, swapped out for another hero, which you'd have to start from scratch.
As I said though, there's a 'not bad' part to this, and that's that your character gets unlocked after a bit, complete with all the equipment and items he/she was equipped with before vanishing. Each hero has a two week rotation time limit, so you could conceivably play through the main quest with all four, completely for free.
If you don't want to wait for your favorite hero's time to pop up again (and you really, really don't want to play as anyone else), you can then pay to keep your player character on a permanent basis, without worry of him or her getting locked up in the ether.
Kotaku broke the story on this rotation idea, which has been somewhat shrouded in secrecy since Fable Legends got a little more light shed on it at E3 last year. A similar rotation will be enacted for the game's villains too, though it's still up in the air how that would work. Lionshead creative director  David Eckleberry seems quite bullish on the idea too, recognizing that f2p isn't something that gamers usually like seeing attached to their favorite games.
Eckleberry called most f2p schemes a "kind of an abomination", and added that what the developer is cooking up is "fair" to players and could be "a very good thing for the world". We shall see.
Stay tuned Fable fans, Fable Legends launches on the Xbox One and PC (with cross-platform play coming after a "long" beta period) later this year.
Source: MCV